T-Mobile is offering a free third line for new and existing customers for a limited time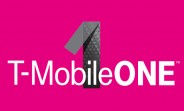 Starting today, March 1, T-Mobile is launching a promotion to give customers a free third line. Any new or existing customers with two or more postpaid lines on a single account will be eligible to walk into a T-Mobile store and sign up for a free line with any of the following plans: T-Mobile ONE, Simple Choice, and Simple Choice No Credit plans, as well as business accounts with up to 11 lines.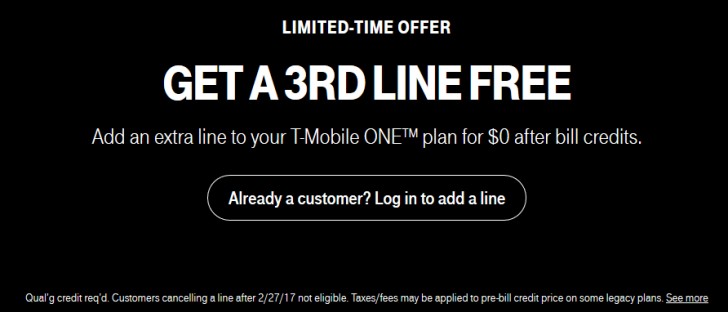 The amount of data allocated to the free line will mimic the line with the smallest amount of data on the account and can be used for a smartphone, tablet, smartwatch, or SyncUp Drive. Also, T-Mobile mentions that any accounts that have cancelled a line after February 27 will not be eligible to receive a free line. The line will be billed and then credited at the end of every month, so once you make any changes to the number of lines on the account, youíll no longer be getting a monthly credit.
The offer goes nicely with the two lines of T-Mobile ONE for $100. That means you could effectively get three lines of unlimited data with 10GB of tethering and HD video streaming (up to 720p) for $33 per line. Just know that if you add or remove a line, the free line will no longer be free.
Like most of T-Mobileís promotions, itís only going to be available for a limited time: until whenever the carrier decides to end the offer.
?
How so? AT&T try to undercut. T-mobile punched back... and at the end of the day.. Its better for us!!
?
Do you have any idea what we pay here? Even after the free line discount, we still fork out more per month than than petty much anyone else. For example, GSMarena cites t-mobile's $100.00 plan which now includes 3 lines. Compare with O2 in the U...
P
I went the other day and you only qualify if you already have unlimited plan or you can get unlimited to get the free line. My plan goes from 164 for 8 line to 350$