You like the T-Mobile G2 specs but don't need the QWERTY? T-Mobile's leaky faucet has the thing for you - the T-Mobile myTouch HD. The Froyo powered droid has HSPA+ connectivity and faster 1GHz CPU plus video calling.
A leaked T-Mobile document brags about how good the T-Mobile myTouch HD is but it's awkwardly worded. Plus it's just a rumor for now, so take things with a grain of salt for the time being.
Features include Android 2.2 Froyo running on a 1GHz "Dual Processor". It's probably a technical mistake, rather than a dual-core CPU but still it's faster than the G2's 800MHz processor. The screen is a bit bigger too at 3.8" and there's a "screen share feature" - we're going to guess TV-Out (they mention HD, which hints at HDMI).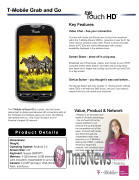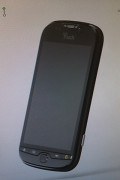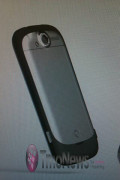 The leaked document • a couple shots more of the T-Mobile myTouch HD
The document says it would be cool to show off photos to your friends - photos of you and Elvis. Seems like T-Mobile knows something about the King that we don't. Jokes aside, the phone has a 5MP auto-focus camera with flash on the back and a secondary VGA camera for video calling.
Video calls are not limited to Wi-Fi - they can go through 3G and HSPA+ too. Or as Motorola would say, "Video calls over 3G? There's a phone for that." Anyway, the T-Mobile myTouch HD features Swype as well as 4GB built-in memory and an 8GB microSD card in the box (just like the T-Mobile G2).
The Genius Button makes an appearance too - it debuted with the myTouch 3G Slide but has been improved since. It can read an SMS message out loud and let you dictate a response (great while driving).
?
Hspa+ tested higher than sprint 4g and is only called 4g with tmobile because thats the common name of speeds faster than 3g, when tmobile drops hspa++ man, watch out
k
thats because tmobiles new network hspa+ is WAY WAY faster then the so called sprint 4g that uses a company called clearwire. both networks really isnt 4g but they both are calling it 4g, the real 4g network will be called LTE which verizon and ...
?
This is going to actually be a dual core process and a seperate gpu so technically tri processor. but will be true dual core 1 ghz and is very fast. I ran into someone here in frisco that had one. even did a quadrant test on it with the test buggy ...
ADVERTISEMENTS