A couple of days ago a leak told us about a Buy One, Get One free (BOGO) deal that T-Mobile was supposedly launching today for the Galaxy Note8. And it turns out it was true: the carrier is now letting you grab two units while only paying for one. Here are the details.
First off, both devices need to be bought with an equipment installment plan (EIP). You also need to add a line for the second phone if you're an existing customer (if you're new to the magenta carrier, you have to get two lines). Once you grab both Note8 units, you head to T-Mobile's online Promotions Center and enter the promo code 17CSAMN8BOGO. This needs to happen within 30 days of the purchase of your second device. Then, in about 6 to 8 weeks, you will receive a prepaid MasterCard with $930 on it.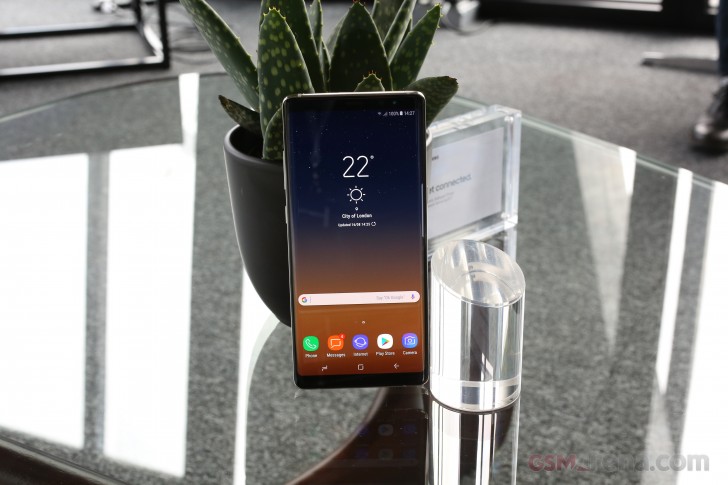 That is the full price of one Galaxy Note8. When you opt for the EIP, you pay $210 down and then 24 monthly installments of $30. Interestingly, this deal is even open to those who have already pre-ordered a Note8 on EIP. To take advantage of it, simply order another one using EIP (and add a line), then complete the steps outlined above. Note that T-Mobile says the promotion is available "for a limited time" only. It doesn't say exactly when it will expire, but if you're interested it's probably best to act fast.
The second phone doesn't need to be a Note8, you can choose a Galaxy S8 or S8+ instead, but you will then only get the full retail value of that device on your prepaid MasterCard ($750 for the S8, $800 for the S8+).
?
Buy from Samsung directly, no down payments and you can buy a fully unlocked unit.
?
Closed the line after your get the rebate money. Depeding on your plan. Maybe extra $40 total for two months. In return. Get a free note 8.
t
I don't need or want an extra line. I rather wait till Thanks Giving. I am sure At&t will come up with a better deal in the near future.