T-Mobile says customer data was exposed in the latest security breach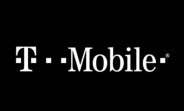 T-Mobile and Metro PCS customers have begun receiving notifications about a potential security breach where some personal information could have been compromised. T-Mobile starts by saying that out of "an abundance of caution" it is notifying the customers that are potentially affected.
On August 20, our cyber-security team discovered and shut down an unauthorized access to certain information, including yours, and we promptly reported it to authorities.
Fortunately, there is no financial data involved in the breach. Credit card numbers, bank account numbers, and social security numbers were not involved. One or more of the following pieces of personal information have been potentially compromised: name, billing zip code, phone number, email address, account number, and whether the account is prepaid or postpaid.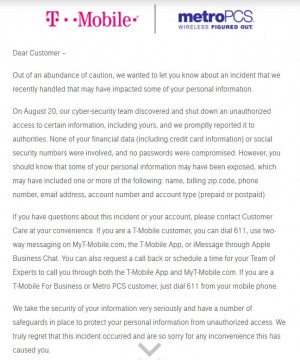 Message to affected customers from T-Mobile
If you have received one of these notifications, the letter says you should contact T-Mobile or Metro PCS right away by dialing 611 from your handset, or contact T-Mobile by any of the few methods for getting in contact. The letter also reminds "it's always a good idea to regularly change account passwords."
T
Sprint is horrible they will benefit from this merge
Seeing as how it wasn't too bad and T Mobile took care of it, I'd doubt that
J
Leaking customer data is not a new thing in the US. And people blame China, Huawei and ZTE.