This is a big deal because just over three years ago, T-Mobile was the number 4 carrier in the US. Nobody even wanted to deal with switching carriers because every carrier, including T-Mobile, had stopped offering unlimited data and their plans become so unclear. While Sprint was the only carrier at the time that offered unlimited data, its network was so bad in some areas, there wasn't even contest.
T-Mobile has beaten the US largest wireless carrier: Verizon, in the number of smartphones sold in Q1 of the US mobile market. Metro PCS and T-Mobile, combined, sold 22.9% of smartphones while Verizon was just barely short at 22.2% of smartphones. AT&T stood behind the former two at 20.2% while Sprint came in last of the top four US carriers at 16.7%.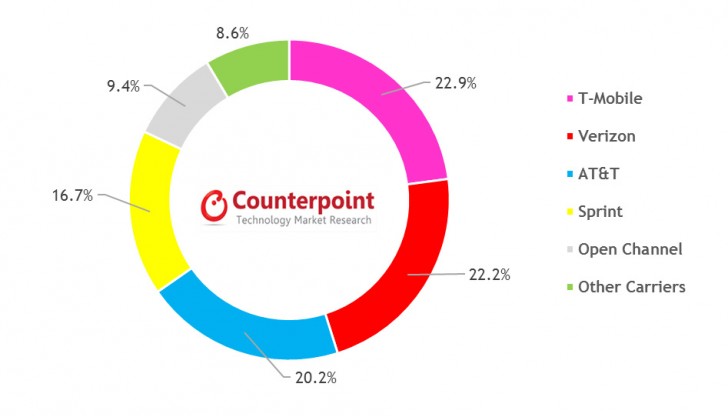 Every carrier in the US was doing away with unlimited plans in 2013 and the rise of smartphones frustrated customers who were stuck with 1 – 2 year old smartphones. Though, this was a time where one or two versions between a phone's life cycle was quite significant. These days, a two year old phone is not the worst thing in the world, at least when it's a two year old flagship.
The same report also outlined how fast smartphone brands are growing outside of the carrier space. Top 4 grossing smartphone makers in the US (that aren't sold directly through carriers) are Huawei (421.4% YoY growth) , Asus (300%), Blu (236.3%), and Coolpad (233.3%) are all seeing major growth in sales in the US from a year ago compared to the previous year.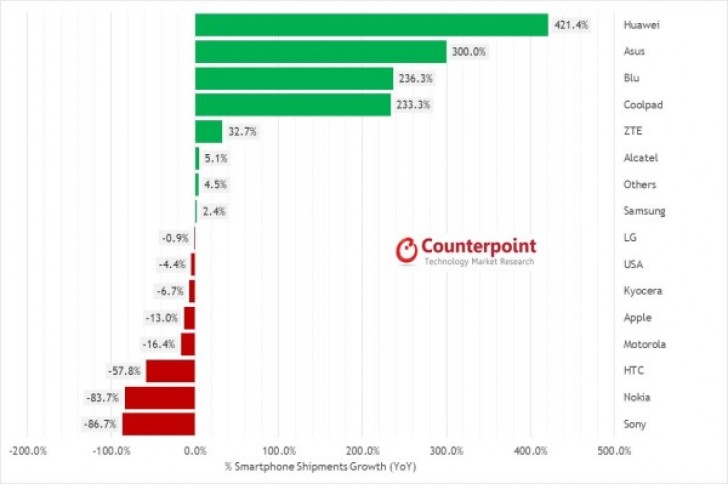 Sony, Nokia, and HTC are all seeing the worst decay in Open Channel smartphone sales. Sony is dead last at -86.7% growth in the US Open mobile market. Sony has already done the work it needs to do in order to turn this around. All it needs to do is advertise the crap out of the Xperia X Series and hope that it performs well without the help of any carriers. Whatever Huawei did, Sony needs to keep a close eye on. Perhaps Sony should really show interest in building Google's next Nexus device.
J
Very nice , T-Mobile becoming the biggest selling company of cellphones in almost every country .
?
Your right, apple have slipped massively comared to Samsung on that chart
?
If this sounds like history repeats itself, it should be noted that what Huawei is doing now is akin to what Apple was doing when they first got in the smartphone game - combine the best features of what everyone else has to offer and package it in a...