T-Mobile ups its Black Friday game, offers free iPhone 7 with eligible trade-in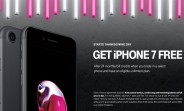 Last week T-Mobile already announced some deals for the Thanksgiving weekend, but it turns out those weren't everything that the carrier had planned. Today it's posted all the details about its Black Friday deals, and they're pretty interesting.
First off, you can get a free iPhone 7 if you trade in an iPhone 7, 7 Plus, 6s, 6s Plus, Samsung Galaxy S6, S6 edge, S6 edge+, S7, S7 edge, Note5, LG V20, or G5. If you trade in older devices you'll need to pay something upfront for the iPhone 7 ($100 or $350).
If you want a free iPhone 7 Plus, you can trade in another iPhone 7 Plus, or a Samsung Galaxy S7 edge, or an LG V20. Again, if you shell out some cash ($100, $200, or $450) upfront for the iPhone, you can trade in other handsets too.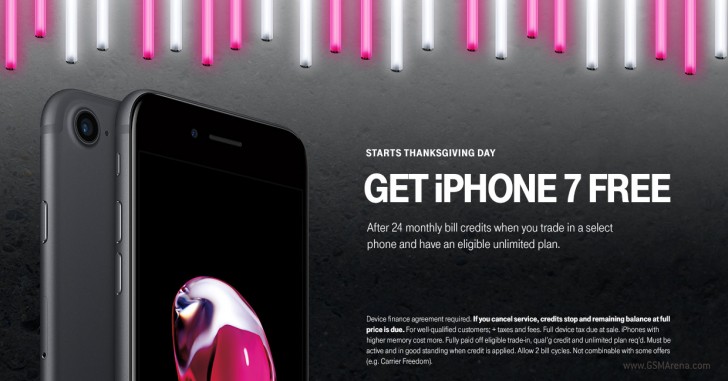 We've already told you about the magenta carrier giving away Galaxy S7 units with trade-ins, but it's extending the system to the S7 edge too. To get that one for free you need to give T-Mobile an iPhone 7 Plus, another S7 edge, or an LG V20. Finally, you can get LG's V20 for free if you trade in an iPhone 7 Plus, Galaxy S7 edge, or another V20.
For all of these free phones you will be required to pay sales tax, and you need to choose either the T-Mobile One or the Simple Choice Unlimited plan.
Additionally, if you're switching from another carrier and bring your number(s) to T-Mobile, you'll receive $200 in the form of a prepaid debit card. You'll get the sum for every line you bring up to 12 lines, so a total of $2,400.
a
It means you can trade in your current iPhone 7 with a higher memory configuration with the same model or choose a different phone model!
L
If I already have iphone7 why would I trade it for another iphone7 if I want tmobile I will just go and get their line
B
If you have Verizon,Sprint, or ATT iPhone 7 you can trade in and get T-Mobile iPhone 7 for free.