Today T-Mobile US has started its pre-order campaign for the Galaxy S5, just as it was announced a few days ago. AT&T and US Cellular were the first to offer the smartphone on pre-order, but all carriers will start shipping it in time for the official launch on April 11.
The T-Mobile pre-orders allows you to have the Samsung Galaxy S5 for $0 down payment and 24 months of $27.50 - that's total of $660. T-Mobile's retail price is $10 above AT&T's, but it still a good deal, especially one that doesn't require you to sign a new 2-year agreement.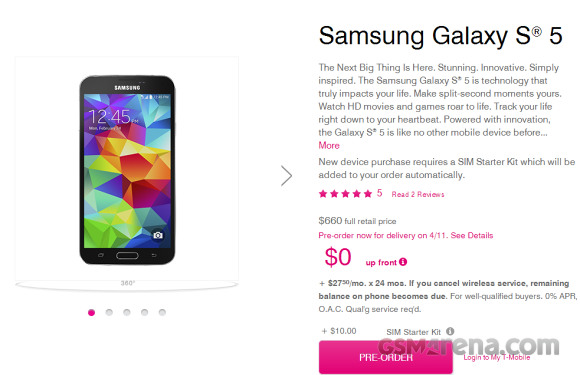 Users who pre-order the Galaxy S5 from T-Mobile will also get a special $120 off a Galaxy Tab 3 slate. You can place your order right here.
?
It's more like even flip phone from the pre Iphone era have certain features or things not restricted that Iphone/IOS still does. And some things it took til the 3gs to get..the ios update after the 3gs and the 4 to get...and a couple ios 7.
D
Thats it.?. Just android have lot of feature but is it really usefull? Did everybody used it? Did it working well ?
?
That's your fault for using cheap device...I don't know if you are referring to an Iphone or low end really cheap droid...Either way you get what you pay for.