It's hard to forget a device as unique as the Fender Limited Edition of T-Mobile's myTouch 3G. It's been a while since the company announced it but in only a few days the waiting will be over, folks. T-Mobile is ready to launch it!
It's been more than three months since we first spotted the myTouch 3G Fender Limited Edition in October 2009 but, luckily, from January 20, 2010 you will be able to check it out in store (and even purchase it).
Along with the design inspired by the sunburst-finish of a Fender guitar, the device will also bring lots of Eric Clapton's hit songs (including "Layla", "Wonderful Tonight", "My Father's Eyes", "Rock 'N' Roll Heart") as well as songs from Wyclef Jean, Avril Lavigne and Brad Paisley. By the way Eric Clapton was chosen by the network carrier to promote the revamped myTouch 3G.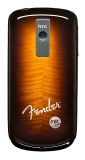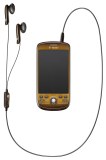 The T-Mobile myTouch 3G Fender Limited Edition rocks!
The limited edition myTouch 3G packs a 3.5mm audio jack and is ready to connect to your standard headphones. And the 4GB microSD card from the retail box has been upgraded to a 16GB one so now there's much more space for songs, videos and apps (such as the preloaded Guitar: Solo and Music Light).
Also aboard there will be an "enhanced" music player, which is said to feature an intuitive user interface and to allow you to easily create ringtones from the songs you're currently listening to. Syncing media, with a PC or a Mac, is promised to be much easier now thanks to the free doubleTwist software.
Optional accessories will include additional Fender branded shells, a carrying case, a screen protector and a so-called Rock Dock, which is nothing else but a speakers-equipped docking station.
Unlike the original T-Mobile myTouch 3G which came with Android OS v1.5, the limited edition myTouch 3G runs v1.6 and is expecting an upgrade to v2.1 sometime this Spring.
And here is the ad of the myTouch 3G Fender Limited Edition:
The price of the myTouch 3G Fender Limited Edition remains unchanged: you can get it for good 180 US dollars on a 2-year contract.
Along with the news concerning the revamped myTouch 3G, we have some good news for the HTC Google Nexus One fans. T-Mobile/Google are dropping the upgrade price for existing users from 379 to 279 US dollars. Luckily, early upgraders will get a refund. The Nexus One price for new customers, on the other hand, is still the same - 179 US dollars.
d
waiting for Ibanez Edition...
?
I have just fallen in love. Will this ever be available in the UK?
?
flat earphones???? really!?? #fail
ADVERTISEMENTS