Today TomTom has finally released their voice guided turn-by-turn SatNav app for the iPhone. The app was the only featured SatNav software at the presentation of the iPhone OS 3.0, but it's the last to arrive.
TomTom for iPhone is available in four regional packages - New Zealand (94.99 US dollars), U.S & Canada (99.99 US dollars), Australia (79.99 Australian dollars) and TomTom Western Europe (139.99 US dollars). Yeah, life in iEurope is expensive, we know!
Unfortunately, the TomTom press release doesn't say a word about the Car Kit bundle, which includes a charging car stand for the iPhone. Let's remind you that it was recently spotted in an online store at a pre-order price of about 200 US dollars.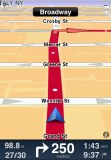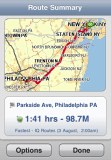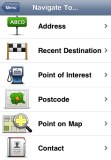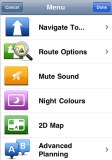 Official UI screenshots from the TomTom GPS software
So, Navigon were first to release their SatNav software called Mobile Navigator, then it was Sygic's turn followed by iGO MyWay 2009 and finally TomTom rounded up the expensive SatNav solutions offered by the majors. Perhaps Garmin will jump on the bandwagon as well, but we are yet to hear about that really.
You can also check out this video of the TomTom for iPhone uploaded on YouTube.
?
only this time? i've been using the TomTom 5 in my Eten G500 for more than 3 years now. just last week, I bought in ebay a licensed Western European map for TT5 for just GBP 5.0.
5
I just had to LOL~~ He had it stuck on the dash with sticky tape!! But yeah, kinda a let down with the lack of TTS. Apart from that, I am more and more tempted towards the iPhone - if it only came with flash for the camera next time, I would be ...
?
uh... I'd stick with my HTC Touch HD Pocket PC thanks. Got a choice of more than just TomTom and Navigon when it comes to navigation software! Higher res screen too.
ADVERTISEMENTS