We'd understand you if you take your selfies with the rear camera in the elevator mirror - some of us do. There are inevitably occasions when you don't have a mirror handy, though, and you still want to know what's going to eventually make it into the photo - that's how phones with a dedicated attention to the front-facing camera came to be so popular.
That's not to say there aren't regular phones - you know, ones not marketed specifically for taking selfies, that have great front cameras. On the contrary, some flagships are here too, just as they were present in the primary camera Top Ten last time around.
Google Pixel 2 XL / Pixel 2 - Neural-network selfies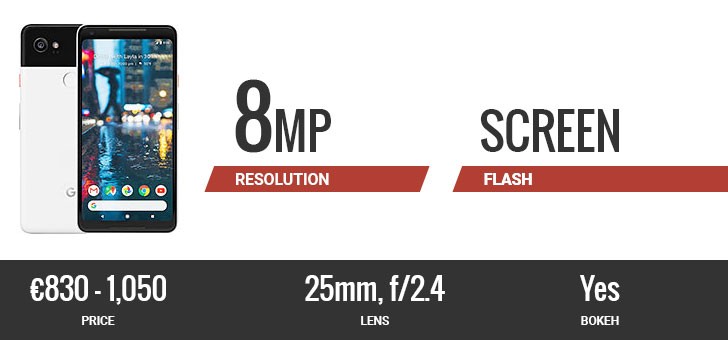 And, sure enough, we're starting out with one of them - Google's second-gen Pixel, size whatever. Regardless of whether you opt for the small one or the Pixel 2 XL, you'd be getting essentially the same camera experience, and that includes awesome selfies.
The front camera of the Phone by Google v2 can do portraits too - minus the depth mapping of its counterpart on the other side of the handset. Where the selfie cam does resemble the main one is in its ability to tap into Google's database of faces with or without glasses, hats and various hairstyles, and differentiate between subject and background. It's not infallible, of course, but it's still mightily impressive.
Even if you're not so much into bokeh, the Pixel's selfie cam will do wonders for you. The colors, the detail, the lowlight performance - let's just say we don't think people would convert over a selfie camera, but it adds up.
Apple iPhone X - Face ID for better selfies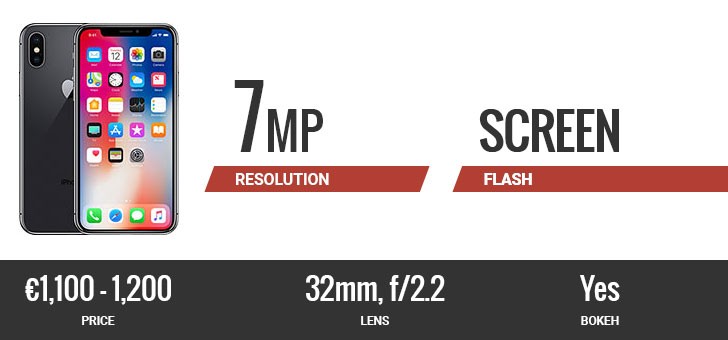 Among the many side effects of the bezelless design of the iPhone X is Face ID - Apple's 3D face mapping tech to replace Touch ID for unlocking. A further side effect of that - faux bokeh selfies.
Otherwise the same 7MP selfie camera as the other iPhones from this year and last, the one on the X stands out among its peers with the ability to establish what's face and what's background and blur the latter accordingly. Much like the iPhone's primary camera portraits, there's no sharp border between, well, sharp and blurry - instead, it's a gradual roll-off starting at the outside of the face's oval outline.
Then there's Stage Light - Apple's simulation of different lighting scenarios that you can find on the X and 8 Plus' rear cameras extends to the X's secondary cam enabling nifty effects like this Stage Light Mono below.
Samsung Galaxy S8/S8+/Note8 - Finally more than just barely adequate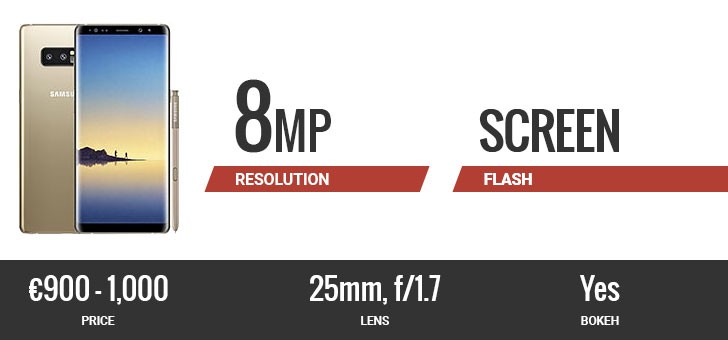 The Galaxy S6 and S7 were behind the curve with their selfie games, their cameras offering just 5MP mug shots. That changed with the 8th generation flagship and the new 8MP cam doesn't look like an afterthought anymore.
This one has enough resolution, for a change, plus it's got autofocus now. Much like the rear cams of the Galaxies, it's universally reliable across most shooting scenarios. There's even an artificial bokeh mode - Selective focus. It's missing both hardware (second camera) and software trickery (neural network image analysis), but it's still half decent, all things considered.
vivo V7+ - 24MP selfies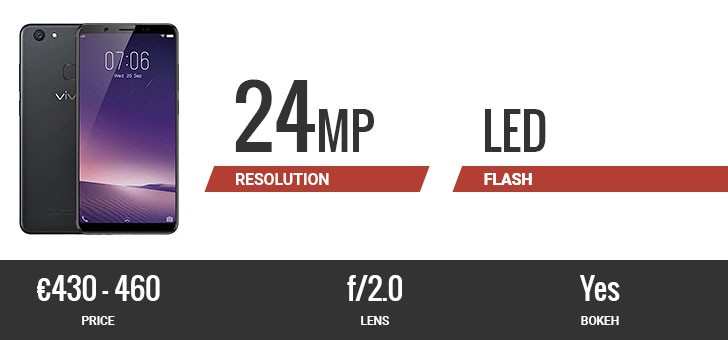 Speaking of resolution, let's now move on to the Chinese contenders, where the order of magnitude is different. Starting with the vivo V7+ - its selfie camera packs a whopping 24 megapixels, that's three Galaxies worth of selfie pixels. And it's not just numbers, the V7+ does indeed capture a whole lot of detail.
Even though it's lost the second camera of its predecessor - the V5 Plus, which we gave high praise for its selfie game too, the the V7+ (yes, one's a 'plus', the other is a '+') can still blur backgrounds with some level of proficiency.
Oppo R11 - Old one still rules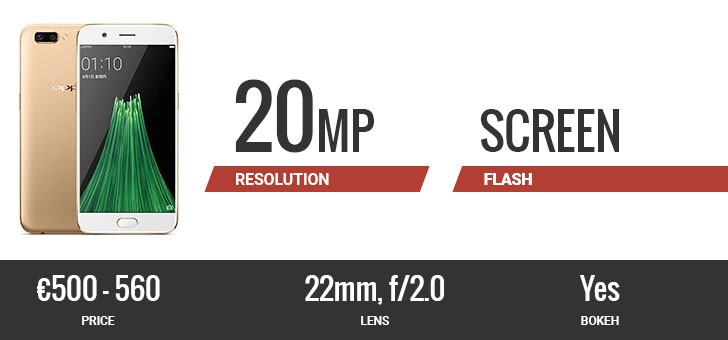 While we're a little torn between vivo's V5 Plus and V7+, we tend to like one Oppo over the other, at least when it comes to selfies - that's the older R11 and not the recent R11s. Staying true to Chinese smartphone traditions, the R11 has a high-res 20MP sensor that delivers heaps of detail. There's also a portrait mode, one that works with just one camera and does a decent job nonetheless.
OnePlus 5T - 5 inches too close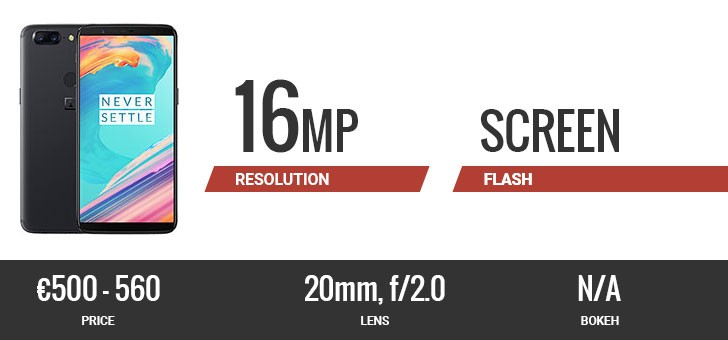 Coming out of the same stable, the OnePlus 5T has a third different front camera, yet another great one. It does come with a caveat, though - you need to be sitting a precise distance away from the phone to benefit from all the 16MP, and that distance is a little closer than ideal. At arm's length you're going to be ever so slightly blurry, but in that case you probably have friends you want to include in the picture, so being ever so slightly out of focus isn't that much of an issue.
HTC U11+ - Less is more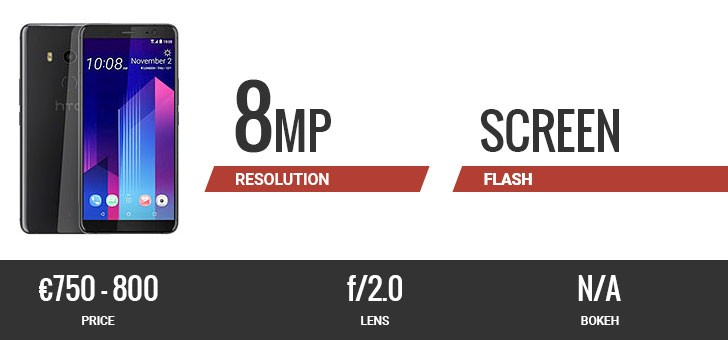 You can look at the 8MP selfie camera of the HTC U11+ as a downgrade when compared to the 16MP shooter of the U11, but we found the U11+ to be the more reliable shooter. It tends to be sharper per-pixel and has great color reproduction. The lack of a portrait mode looks bad, but we'll give HTC another year before we start to complain.
Motorola Moto X4 - Okay, more doesn't hurt either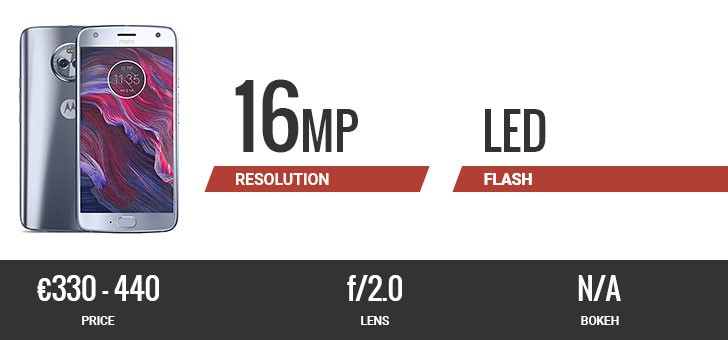 Then there's the Moto X4 which packs the highest-res selfie camera on a Motorola device - a 16MP unit. It's got a front-facing flash too - almost like its Z2 brothers, only a single LED as opposed to the dual LED setups in the higher tier. In good light the Moto X4 captures highly-detailed if a little noisy selfies, while in low light you can engage its 4MP mode or resort to the flash.
Xiaomi Mi 6 - 8MP 16:9 selfies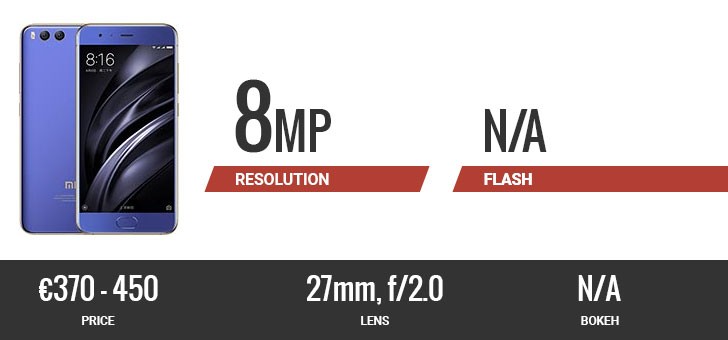 After we bashed Samsung some for its repeated use of 5MP selfie cameras on flagships, let's now go ahead and bash Xiaomi for its 8MP front-facing camera that we shot almost exclusively in 5MP mode, because as it turned out its native aspect is 16:9. Our failures aside, the Mi 6's front camera images are super-sharp and colors are spot on.
Meizu Pro 7 Plus - Not a selfie cam, but a selfie display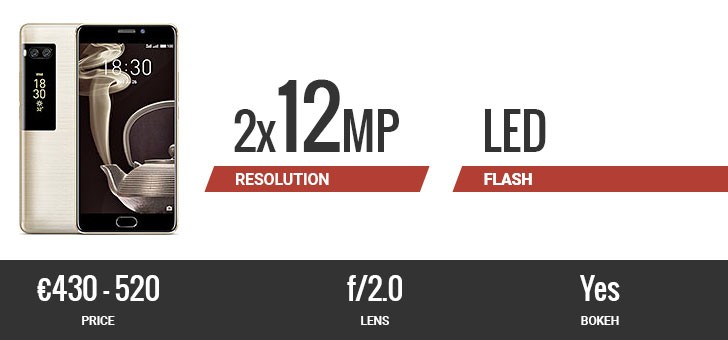 Entering here with sort of a wild card, the Meizu Pro 7 Plus offers an alternative to having an extraordinary front-facing camera - you can instead slap a display on the back to go with the rear camera. Now, the Pro 7 Plus's rear-cam portraits aren't amazing, and well, they're equally not amazing when you're shooting yourself with the rear camera. But as a proof of concept - being able to properly frame a photo of yourself, while using the phone's primary camera - the Pro 7 Plus serves to show the way.
?
You meanhmd microsoft 8. Did you notice how the apple Pr team here chose to use the note 8 in negative terms agai st the 24mp camera, leaving the available term, " nearly four times the x phones offering" hidden from view. Brownie pointfro timmy.
D
Betcha never took selfies with a Nokia 8
ADVERTISEMENTS