We've had many chances to gaze at the upcoming OnePlus 5T, but the clarity of this new image is better than what came before. It shows only the top half, but the new design is so symmetrical that the bottom will look fairly similar.
The side bezels look exceedingly thin, though we attribute this to the perspective and to general digital trickery. The top bezel of the 18:9 screen seems smaller than that of the current model, though perhaps not as slim as a Galaxy S8 or LG V30.
The new screen will have 1,080 x 2,160px resolution (so still no QHD), the battery might bet a bump in capacity as well.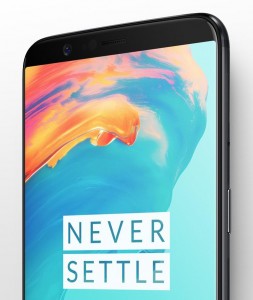 Top half of the upcoming OnePlus 5T
You can see the real-life side bezels in the hands-on photo from last week. The back has been observed in renders only but it should be more or less identical to the back of the Oppo R11s, down to the dual 20MP camera and fingerprint reader a bit further down.
The OnePlus 5T is expected to launch on November 16. The expected price is in line with what the OnePlus 5 cost at launch - $550 to $650 depending on the memory option (6GB/64GB or 8GB/128GB).
D
I'm still using the original OP from 2014, it's still plenty fast and the design was so unique at the time, I know it's based on the Oppo Find 7 but still it's a great looking device; why can't they go back to making cool phones like that?
g
are they still stealing personal info from the Oneplus phones
m
S8 will cost almost the same as the 64Gb 5T by the time they will release it if the rumors of bigger price tag are true. I'm sure that in January-March as S9 launch will get closer you'll be better of buying an S8 than a 5T. S8 price will drop 10-2...