The time for yearly recaps has come and we're kicking things off with a Top 10 list. It's not a 'best phone' type of list, strictly speaking - we won't be pronouncing the phone of the year here. Instead, we'll be looking at the phones that have gathered the most fans throughout the year. Alright, on second thought that maybe does make it a 'best phone' list, sort of.
Wait, back up a little, what fans? You know - that obscure feature we have, where you can state your affection for a device by hitting the heart icon on its specs page. That will also send it to your profile page where you can browse all the devices you've liked and possibly owned, and maybe even reminisce on the days of alphanumeric displays.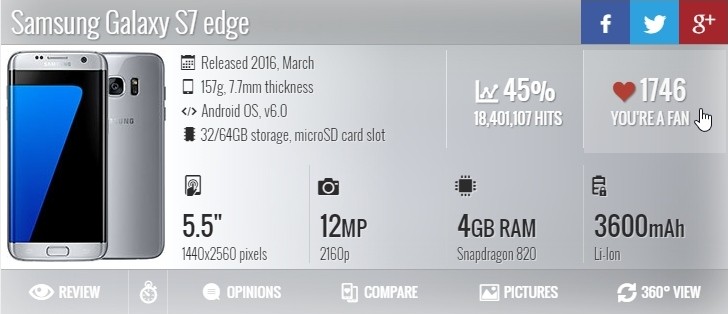 Anyway, Top 10 time now, and it's all touchscreens.
The Sony Xperia X Performance was the last to make it on the list snatching the 10th spot by a few votes ahead of the LG V20 - so no ticker in the Top 10. One higher we find the Xiaomi Mi Mix - concept phone become reality in a matter of minutes during its announcement keynote in late October. And yes - in just two months it's got more fans than the Xperia, which has been official since February.
Next comes the Galaxy Note7 in 8th spot. Yes, the Note7 that is no more still has a loyal following. A couple of flagships from the spring sit higher on the list - the LG G5 with its Friends modular concept will be the only one of its kind (LG confirmed - no more Friends on the G6), while the HTC 10 doesn't seem to be doing as well as the struggling company needed it to be. Both made it to the hearts of our readers, though.
A much more successful on the market Samsung Galaxy S7 is only slightly ahead in fan count - we find that one in 5th. Announced mere days after the Samsung flagship at MWC in February, the Xiaomi top model for the first half of this year - the Mi 5, is in 4th spot.
It's not over for Xiaomi on this list, though - there's one more. The Redmi Note 3 is one of those gems that combine premium build with good specs at an unbeatable price - no wonder it's been frequenting our weekly Top 10 trending phones chart.
Runner-up in number of fans this year is the OnePlus 3, the original one, and not the 3T update. In just three product generations the once tiny Chinese startup (with far from tiny backing, of course) turned into a force to be reckoned with, selling globally and beating the big guys in their own game.
But in the end it is the Samsung Galaxy S7 edge that gathered up the greatest number of fans this year. The fancier version of the Samsung mainstream flagship has it all - premium build, superb display and camera, battery life to spare - makes you wonder who can not be a fan of it?
D
The top you got good. It is a pity that I did not see such a smartphone https://jiji.ng/mobile-phones/gionee-marathon-m5­-plus I have one and it deserves a place. It has no lags...
D
I always kept reading this list and from my observations : S7 edge was second after Mi5 until Samsung started replacing note 7 with it. Meanwhile, oneplus 3T announced but it continued to increase the fans of original 3, which, Mi5 successor, Mi5s,...
K
Were is gionee selfie flash