The Toshiba TG01 is not out yet and already there's talk of two new entries in the TG line - TG02 and TG03. A leaked Toshiba roadmap shows the new Snapdragon-based devices for the first time. Unfortunately, the Toshiba TG02 and TG03 are hardly major upgrades to the original TG01.
Toshiba TG02 and TG03
The physical characteristics of Toshiba TG01, TG02 and TG03 are all identical - 129 x 70 x 9.9 mm, 4.1-inch 480 x 800 pixel screen, and they come with the same jaw-dropping 1GHz Snapdragon CPU. Both devices will have Windows Mobile 6.5 pre-installed right out of the box. Both the TG02 and TG03 will be available by Q3 2009.
There are some interesting differences though - and we wouldn't be posting this news article if it wasn't for those.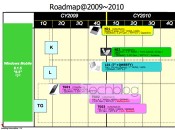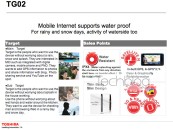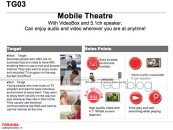 The Toshiba 2009-2010 roadmap and a couple of info slides on the TG02 and TG03
The Toshiba TG02 will be splash-resistant and it can be used with wet hands or outside in the rain. The camera is left unchanged at 3.15 megapixels, as is the GPS and HSDPA support.
The Toshiba TG03 ups the ante with a 5 megapixel camera and 5.1 audio channels support - we'd surely like to see that one implemented on a device that's 9.9mm slim.
What's interesting is that there's no mention of a GPS, could it have been traded for the beefier camera module?
The leaked slides also mention that Toshiba TG03 comes with VideoBox support, but there are quite a few things and services called VideoBox so it's not entirely clear which is it. It's obviously something that needs desktop computer transcoding software and has something to do with transferring and recording videos.
Toshiba K01, K02 and L01
The leaked Toshiba 2009-2010 roadmap also reveals three other devices that are quite interesting as well. The Toshiba K01 and K02 both run Windows Mobile 6.5 on the same Snapdragon 1 GHz CPU as their TG siblings. The K01 is a QWERTY slider with a 4.1-inch capacitive touchscreen display, while the K02 is a clamshell with a 3.5" resistive display.
The Toshiba K02 has a secondary display and ten additional keys on its front - it's hard to tell but it may become Toshiba's Communicator. Both devices sport a 3.15 megapixel camera and HSPA.
And finally, the third device due for release in Q4 2009 is the the Toshiba L01 - it's again a Windows Mobile 6.5 device with a 1GHz CPU but it also features a 7-inch display and an optional detachable QWERTY keyboard, which somehow puts it in the MID group than something suitable for GSMArena database. The L01 also seems to have a kickstand but we can't really tell for sure.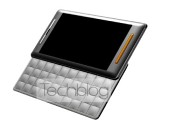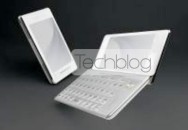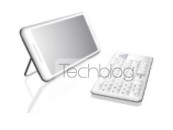 Meet the Toshiba K01, K02 and L01
It's important to note that Windows Mobile is no guarantee for these things being phones; the L01 certainly isn't, although it sports HSPA as well.
We had a hands-on with the Toshiba TG01 at the MWC '09 and it should give you a good idea of what the two new versions will be like. Whether Toshiba will stick with their Stripes UI remains to be seen/leaked.
If the leaked roadmap is to be trusted, we should see the TG02 and TG03 in the Q4 2009 with a month or so between the two. The other three should be out and about at the end of 2009 or in the early 2010.
N
but now it's back and better than ever!
J
Wait, wasn't Toshiba dead? /Shoo!
ADVERTISEMENTS