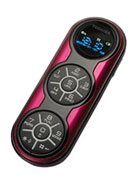 5
reminds me of my siemens xelibri 1. would look classy in a different colour combo.
e
no half way there mp3 player interface, no humunguous cheating price, and no tall claims about battery life. does what it says makes calls, messages, acts as a modem n got enough space for songs to play for a jogging session. now if only they would make it waterproof and a bit shock resistant.
e
it is a phone that will be liked and bought by people for its functionality and no nonsense approach. it is on e of the smallest phones available (good in the pocket while jogging, also don't see no phone that does that)most are too bulky n big. this phone delivers on what it says , none of the nonsensical 15 fps video,crappy 10sec interval between shot photos
?
wow it's really hidious....
how on earth did they come up with such a bad design???
seriously, give it to anyone on the street and 99% of them will be staring at it dumbfounded for a while as to what on earth they are holding....
h
damn!! i didnt know such ugly things were made...the ppl who made this fone should be embarassed... the battery and the features arent good...nothing is good abt this fone
S
this not a phone ..its an stick//i will never take such a phone, its design is not good ...
L
I'm using it as my second phone. It's fantastic. What U want more voice, txt, mp3 and fast modem. And really cool design
m
ecxelent ecxelent really it is nice , good , and with many extras, it is a phone, also it is a mp3, and it is a modem .3 in 1. ggod very good
?
Now this is something that's quite revolting for the usual-fone lovers. The design is really insane. Most people wont like it, but as for me, it's cool..
?
this phone is not at all a phone its nothing but a long stick NO HoMO that u just put # on what the hell were they thinking when they did this. i don't have the phone and will never never ever ever get that dame phone thank you and have a nice day.
?
cool..i'll go for this
im looking for the design, dont care bout the spec..

Total of 214 user reviews and opinions for Toshiba G450.