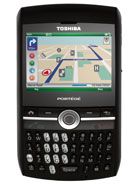 ?
looks like a blackberry on steroids!!!
g
this phone is the exact copy of samsung bLacK JACK II.....i can not belive.....
P
Whoa, this looks like a straight rip of the Blackberry design, right down to the scroll wheel and even the enter button..
Wonder what Blackberry think of this?
K
anyone know how to use T9 on Toshiba G710??
please tell me , thanks.
T
How do u connected to the internet on this phone :S
?
There is no Wifi on this mobile, look specs on Toshiba website !
D
looks like a motorola Q..lol
S
HAS WiFi 802.11b/g

Read the specs.
?
Can somebody confirm please if this phone has Wi-Fi?

Is the UK version different in this aspect?

Thanks

K
This is nice--a Blackberry running WM6! Just what I've been waiting for.
N
Its like BlackBerry Curve with windows Mobile 6.
It will be a slow PDA because of 64 mb RAM...and color resolution also sucks.
E
battery life = low; don`t has radio; ROM; RAM

Total of 53 user reviews and opinions for Toshiba G710.
ADVERTISEMENTS