The Toshiba Portege G900 begs to be called cutting edge. With its massive set of features it does manage to deliver on almost all fronts - HSDPA, 3" WVGA touch screen display, spacious QWERTY keyboard, 2 megapixel camera, stereo Bluetooth, fingerprint scanner, Wi-Fi and USB host mode. It does take a heavyweight bloke to handle that much of a feature load, but more than ever PocketPC comes really close to a PC in your pocket.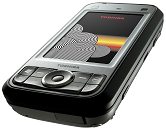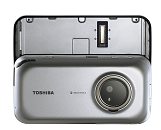 Toshiba Portege G900 official photos
Key features
3" 65K color TFT touchscreen display with a 800 x 480 pixels WVGA resolution
Tri-band GSM/GPRS/EDGE support
HSDPA 3.6 Mbps with video calls
Windows Mobile 6.0 Professional
Intel XScale 520 MHz processor
128MB RAM
Wi-Fi 802.11b/g
miniSD memory card slot with hot-swap capabilities
USB host function via miniUSB port
2.5 mm standard audio jack
2 megapixel camera
Stereo Bluetooth audio (A2DP)
Fingerprint scan feature for security and menu navigation
Large QWERTY keyboard
Main disadvantages
Hefty size and weight
Slow interface response
Poor display legibility under sunlight
No FM radio
Only 40MB of internal memory available to the user
Mediocre camera performance
No external reset switch
No dedicated graphics chip (at least not officially confirmed)
USB host function works only with devices with power consumption under 100mA
Poor battery life
The Toshiba Portege G900 sure feels excitingly refreshing in a world of Windows Mobile PocketPC dominated by HTC. The high resolution display is keen to impress, while the large keyboard makes typing a piece of cake. Join us on this preview of all the wonderful possibilities that come with Windows Mobile 6 and Toshiba Portege G900. Be right back after the jump.
m
hard reset: "green dot" + "Del BS" and "Power" :)
a
tnx u very much bcoz am going to buy dis phone
j
u can get it sim free for £200.00 on expansys.com google it, thts where i got mine :)