Contacts and messaging
The Windows Mobile OS has an unlimited contact list with a plethora of available fields for each entry. Synchronization with MS Outlook is textbook. Unfortunately, there is no letter-by-letter search available in the phonebook so you're left with using the alphabetic filtering or scrolling all the way through the list.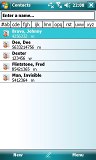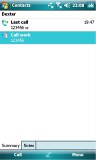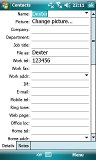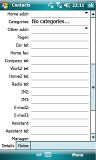 The Contact list has no limitations • in the contact details even the time of the last call made is shown • there are a bunch of fields available to each contact
Sending and receiving messages is done through the centralized Inbox. It has separate folders for SMS, MMS and email. SMS length is virtually unlimited, as well as the memory available for received and sent messages. Inside the multimedia editor you will find the useful option to create multi-page messages containing more than one melody, image or text.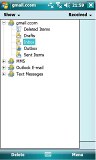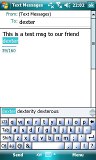 There's one shared Inbox for all messages • typing a test message to our friend Dexter
The Outlook Mobile email client supports POP3 and IMAP accounts. You can have multiple accounts and you can set the client to do automatic checks in regular time intervals. It has full support for sending and receiving attachments. There is also support for Direct Push. What it means is, instead of checking mail at regular intervals, your messages are delivered to you immediately once they are received by the mail server. The only condition is that your company's Microsoft Exchange server supports Direct Push. Windows Mobile 6.0 offers some upgrades to the email client in comparison to Windows Mobile 5.0 - now you have integrated search, plus support for HTML emails.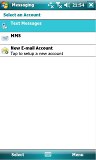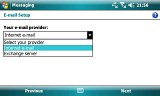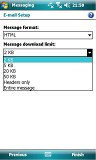 Setting up Email options: now you have HTML email
There are several text input methods with the Toshiba G900, the hardware QWERTY keyboard being the most obvious one. Beside it, there is also handwriting recognition and a virtual keyboard that you can tap on with the stylus. The Block Recognizer allows handwriting with single-stroke gestures, so you have to learn how to write that way (writing is done in a special box). The Letter Recognizer offers a more natural way to write, as you can input normal characters (writing again is done in a special box). With Transcriber you can write wherever you want on the screen in whatever style you may wish. With every text input method you can rely on the Xt9 word prediction system to assist you. However, it's somewhat buggy and it's hard to turn off. If you turn it off and then restart the handset, it will be back on. It also sets itself on at really inappropriate places too, such as the "To:" line in email and MMS. We, along with a long list of disgruntled G900 users, would have really appreciated an option for turning the Xt9 system completely off (need to resort to registry tweaking again).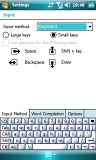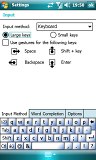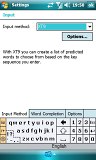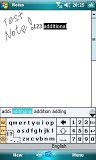 The virtual keyboard has two key sizes available • setting up Xt9 • the Xt9 in action - working with Transcriber
Managing your files
The built-in file manager of the Toshiba G900 is the standard Windows Mobile variety. It does a nice job finding the multimedia files you are looking for. The file manager can create new folders, copy and move files, set tracks as ringtones or simply send files to other devices.
| | |
| --- | --- |
| PocketPC are probably bottom of the ladder when it comes to camera performance. It's not about megapixels, they are just lame. The Toshiba G900 stays on the same path, however the 3" TFT display is a really nice camera viewfinder to have. | ADVERTISEMENTS |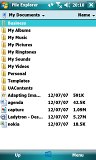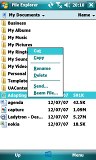 The File Manager offers all the basic functionality
The Picture gallery of Windows Mobile is an application called Pictures&Videos and, as the name implies, you use it to browse the multimedia files in question. As far as pictures are concerned, you can zoom in and out, as well as preview them in landscape mode. The files are shown as either thumbnails or as a plain list. There's a shortcut that allows you to turn on the camera directly from this application. You can even do some basic editing on the images.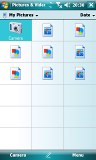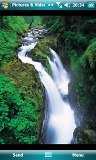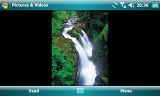 Browsing images as thumbnails • opening an image • landscape mode
The primary multimedia player of all Windows Mobile devices is the preinstalled Windows Media Player. Besides music, it allows watching video and streaming TV. You can sort tracks by artist, album or genre and you can create custom playlists.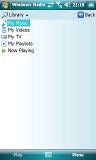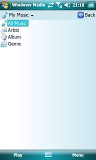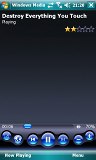 Sorting tracks in the Music Library • playing a track
We installed a TCPMP player and the needed codecs to play DivX and XviD video files. Thanks to its powerful processor, the Toshiba G900 was able to smoothly play video at near-VGA resolution at 900 kbps and 25 fps.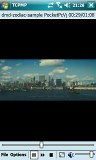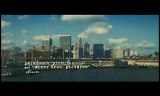 Playing a XviD movie on the Toshiba G900
Camera: for the sake of having one!
PocketPC are probably bottom of the ladder when it comes to camera performance. It's not about the megapixel count. It's just that their photos are really nothing to speak of. The Toshiba G900 stays on the same path. As you probably imagine, the 3" TFT display is a really nice camera viewfinder to have - but that's pretty much all that's interesting about it. A not so common setting is to choose whether the camera interface should run in landscape or portrait mode.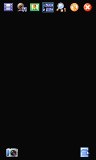 The ample camera viewfinder in portrait mode
The camera setup menu is hard to operate with fingers only. There is no white balance setting. You can however apply several color effects (Grayscale, Sepia, Cool, Negative), adjust flicker, color and saturation, and use the special camera modes such as Timer and Burst (2, 4 or 6 shots). Should you choose, you can also use the front video-call camera to take pictures and video.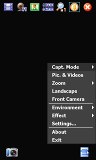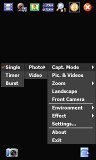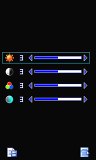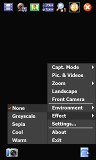 Some of the camera settings are in the camera application, while others are hidden in the Windows Mobile settings menu
The Toshiba G900 camera captures MPEG4 video (or 3GP) in QVGA resolution (320x240 pixels). The available settings here are much the same as the ones in the still camera.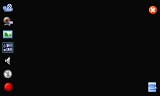 Video viewfinder is the same, so are most settings
The USB is your host tonight
Connectivity is what matters most when it comes to PocketPCs - both wired and wireless. The Toshiba G900 has enough to show in that department. Direct USB connectivity allows synchronization with MS Outlook. However you can also use Bluetooth 2.0 for that purpose. The Bluetooth capabilities of the device also feature the A2DP profile for stereo listening to music on wireless headphones.
Speaking of wireless communication, we should mention there is no Infrared port (no big deal really!), but you have Wi-Fi at your disposal. You can also relay on UMTS support plus HSDPA 3.6 Mbps. There are also GPRS and EDGE, so you always have data connectivity options available.
The Toshiba G900 can be used in USB mass storage mode, allowing direct access to the memory card as if it's a memory card reader (no need to tweak things here).
Now, another highly intriguing feature of the G900 is the USB host function. That means your PocketPC can act as a host device for USB peripherals. The USB host cable comes enclosed in the retail package. The possibilities are plenty here, but for one limitation - the USB peripheral device you are connecting should have < 100ma power consumption. And believe us, that's not much. For example the O2 XDA Flame has the same USB host feature but can power devices with up to 500ma power consumption.
Anyway, users have reported that they have successfully managed to hook up USB flash drives (up to 16GB), USB memory card readers (with memory cards), and digital cameras. Some even succeeded connecting 320GB USB hard drives (with external power supply though). Probably the most interesting of all experiments is plugging in a USB mouse (and actually using it). The first no-go is obviously the lack of native mouse cursor drivers in the Windows Mobile OS - the mouse seems to be working and you can even click on the Start menu, but there is no visible cursor feedback. After a short search of specialized sources (www.modaco.com and www.xda.developers.com), it turned out that a hack (read: custom made mouse driver) used for displaying the mouse pointer on the HTC Athena can really be applied in our case too. We didn't have time to test it, but numerous G900 users report it to be a successful mod - the USB mouse with a pointer works like a charm on the G900. To conclude the matter however, we should point out that the USB host function is a bit dodgy and getting your USB gear running on the Toshiba G900 isn't 100% fail-safe.