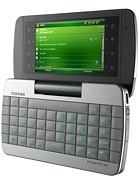 f
Egg shaped??!!i'd hate to see the eggs you sit down to eat
d
The colours are good, the idea is good. I could live without those extruded buttons. I would love a device like this one only slightly improved. Design is too egg shaped. What's wrong with classical pocket address book shape ? The screen is too small. If you're going to make this device useful you need 5 inch screen at least, and you might consider 2:1 ratio. It could be far more useful.
?
what the heck is this? visualy it looks like crap.. if they only made it look nicer, people will digg this
m
wow its good mobile i use it
A
I cannot imagine how would I use the touchscreen. With TyTN you keep the device closed in one hand and use the stylus with the other. When you need keyboard you open it, but then you have little or no use for touch screen.
Obviously here you have to keep the device open. I don't see myself holding the device open with one hand and using the stylus with the other. Apart from this it seems a powerful device.
s
looks very retro... but i dig it.
h
I hope they improved the battery life on this one.
I love the screen size, great for browsing.
f
yeah,toshiba and sharp are the best at all.i own 920t with wvga screen and lot of nice staff.i recomend toshibas to all.nokia can close business
?
I dont know why all you people are so opposed to to Toshiba .but i feel this is 1 great looking phone with great features and a great sucessor to the g900
U
oh come this is just a glorified Qtek 900
compare them you'll only see a few differences
weight
Camera
OS etc
nothing special at all - NOT IMPRESSED!
a
i hope it will be able to play movies at this high resolution or otherwise its just for surfing..., also i dont know how games will act at this resolution... i don't think any games will work... since all are made for 320x240 or 640x480...And another thing is how you dial..you have to always open it up to dial a number... its kind of embarasing :)and i hope it will not look too big in hands...also a 3d accelerator chipset like on hp would be great... well other then this looks great
e
Looks like it's one heavy bloke. Anyways, the high-res screen is great.
Total of 132 user reviews and opinions for Toshiba G910 / G920.
ADVERTISEMENTS