A leaked Toshiba roadmap several months back mentioned several new smart devices planned. Up until now we had no idea how they would look, but Toshiba went ahead and displayed their prototypes at the CEATEC show currently held in Japan.
Though the rumored TG02 and TG02 were not on display, the Toshiba K01 was showcased. Running on WinMo 6.5, it has the same form factor as Nokia N900 for example, with a slide-out full QWERTY keyboard. It's only 15mm thick (18mm for N900) and has a 4.1-inch WVGA capacitive display and a 3 megapixel camera. The Toshiba K01 should be announced before the end of the year.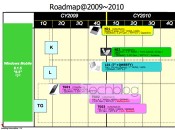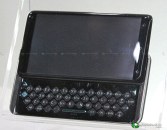 The previously leaked Toshiba roadmap • Toshiba K01
The Toshiba K02 was also on display at the CEATEC 2009. With a detachable QWERTY keyboard, K02 is a clamshell with a main 3.5-inch resistive touchscreen display and an external secondary screen. The K02 runs on Windows Mobile 6.5 much like the K01. The Toshiba K02 should be announced in January 2010.
The last of the bunch is Toshiba L01 - a 7-inch touchscreen tablet. The display has a WVGA resolution and the operating system is again WinMo 6.5. The L01 has a detachable QWERTY keyboard (optional, but visible on the photo). The Toshiba L01 should be announced in Q4 2009.
Toshiba also went ahead and demonstrated another device that's still unnamed. It's a slider with a regular keypad but with a large touchscreen display.
Just remember that all this tech information was taken from the roadmap that leaked before - Toshiba didn't release any new info today but we hope to hear more from them before the end of the year.
Today Toshiba also revealed their new wireless transfer technology dubbed TransferJet. The TransferJet technology lets you easily transfer data among different types of devices (phones, PCs, notebooks, etc.) by simply touching the two gadgets. The maximum transfer speed is surprisingly high - up to 200Mbps. Toshiba even went as far as demoing the tech live using a notebook and a modified TG01.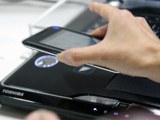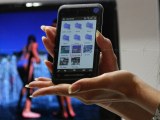 Toshiba representative demonstrates the TransferJet technology
t
This keyboard looks ugly and Toshiba needs to improve crappy ROMs. The slider looks nice.
?
i seriously hope your being sarcastic.
M
Great. I think we are getting closer to the right thing. It is a WiMo capacitive touchscreen with qwerty keyboard. I alreaddy like the thickness. I can tell that the edges around the screen are not as ridiculously big as in almost every other phone. ...
ADVERTISEMENTS