Toys"R"Us has put up the Nintendo Switch console on its online Canadian store. It is priced at CAD 329.99, which is about USD 243. Of course, the console isn't actually available for sale at the moment.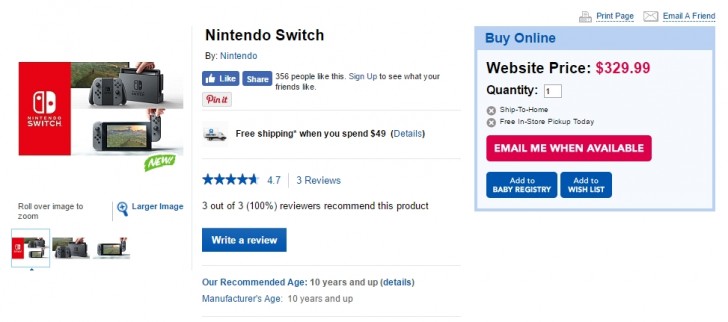 Nintendo announced the Switch a couple of weeks ago. The company's upcoming console has a portable, tablet like form-factor that can be docked and plugged into your television for big screen gaming. On paper it seems like the best of both worlds, however, judging by the price it is unlikely this will be a powerful device that can compete against the likes of the PS4 or Xbox One, let alone the more powerful PS4 Pro or upcoming Xbox Scorpio.
You can read about it more here.
?
you guys are looking this from the wrong side, Nintendo is not launching this to compite with the actual consoles, this is a different market for gaming and portable consoles, they gave up on that by killing the Wii U production. they are moving to a...
P
You are right. The Wii Mote was an actual revolution (hence the code name Revolution) that was pertinent for the industry. We'll have to see if the hybrid design of the Switch will compensate for the lack of power.
D
Exactly...this is why people will buy the PS4 pro...to play Minecraft....in 4K...