The time for the BlackBerry Curve 8900 successor has come. It's been more than a year since the Curve 8900 announcement but today we spotted the first image of its replacement. Reportedly, the new device will be called BlackBerry Curve 8910 and will exchange the 8900's trackball for a trackpad.
Strangely, up until now the BlackBerry XX10 naming has been used only for devices which add GPS capabilities to the XX00 named versions but the 8900 already had a built-in GPS receiver in the first place. It's still a mystery what exactly the Curve 8910 updates (except the trackball)?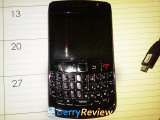 The new Curve 8910 has a trackpad instead of a trackball
The only major thing the BlackBerry Curve 8900 lacked was 3G support but if the 8910 packs that then that will make it identical to the Bold 9700. But we're only guessing here.
The Curve 8910 will also come with the latest BlackBerry OS (5.0.4+) but none of the other juicy details are known by now. It is still a mystery when the new BlackBerry smartphone will show up officially and at what price.
d
for the time being, i don't see why people are so excited about a BB. yes it is a very good email device, but that is it. and all the phone from the same series doesn't seem to have a lot of different, maybe some minor upgrades
P
The curve with trackpad is available in india for Rs13000= $220. from december....
d
i think they would put 3g on it and update the camera to 5 mega pixel cause the 8900 has had the best camera over the year until the bold 9700 came out but there again no1 knows what is goin yet cause i having heard much more about the pearl 9100 eit...
ADVERTISEMENTS