Do you pride yourself on your digital privacy habits? Are you particularly proud of that 256-bit encryption and personal VPN setup? Well, we definitely won't try to take any of that away from you, as such practices might just save you from a digital nightmare at one point or another.
However, unless you take things to the extreme and only limit your online activity to the most secure channels and outlets, you are still very much susceptible to third-party apps, services and the security measure undertaken by their respective developers, as a new infographic reveals.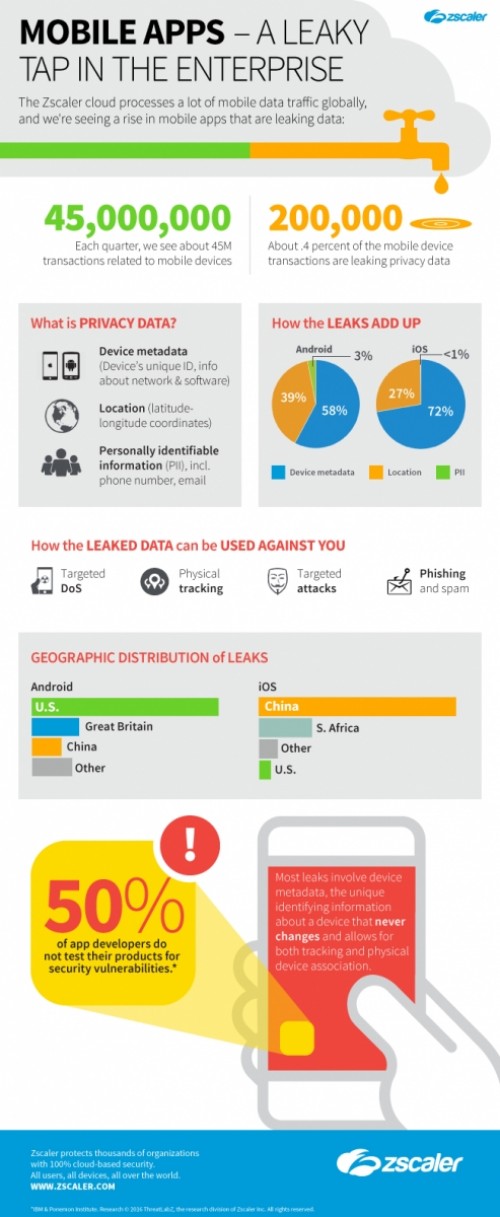 In today's social-network online reality, we all have to accept a certain degree of information leakage. As a minimum, that is the payment of choice for many titans like Google or Facebook for running their massive, essentially ad-supported services. However, getting to quantify the amount of private info you are parting with on a regular basis is a rare opportunity.
Security firm Zscaler offers just that in its latest research/advertisement work. Its cloud service is responsible from processing a lot of mobile traffic worldwide and has been the source of some interesting aggregated numbers on leaked data for both Android and iOS apps.
It turns out around 0.5% off all iOS apps tend to reveal some sensitive data while transmitting, while the number on Android is lower at 0.3%. However, digging in a bit further reveals that while applications on both platforms typically reveal device metadata and location information, the really personal things, referred to as personally identifiable info (PPI) is a lot less common on iOS. Code running on Cupertino devices has only 0.2% PPI data on average, while for Android it's a whopping 3%.
Another interesting statistic has to do with geographical location. It appears around 70% of leaky app traffic on iOS comes from China, while on Android, data escapes mostly from the US and UK. All and all, it is hard to say which type of leaked info is more dangerous or which users are affected the most, nor is there a surefire way to protect yourself. The reality is you are entirely dependent on the good security practices of the services you are using.
That being said, this is just one more reason to think twice before trusting small, shady and less reputable apps with access to the smarthpone that holds your digital communication and goes most everywhere with you.
t
less secured os. you can do anything/everything on the os that will lead you unsafely
?
The chinese roms come with app based firewall. You can block apps from using mobile data/wifi. Probably became standard as in the developing world some are without data plans/low data limit plans.
ADVERTISEMENTS