The new line-up of ASUS Transformer 3 2-in-1 PCs are in. The company made the Transformer 3 Pro, Transformer 3 and Transformer 3 Mini official today, each covering a certain price range.
Transformer 3 Pro
The Transformer 3 Pro is the most powerful of the three and features a 12.6" display with a 2880 x 1920 resolution and 275 ppi pixel density. Under the hood, there's an Intel Core i7 processor and up to 1TB PCIe SSD and 16GB of 2133MHz RAM, similarly to the ZenBook 3.
At the back, there's a 13MP camera in addition to a fingerprint sensor. The body is 8.35mm thick and comes with a kickstand, which can be adjusted at any angle up to 170-degrees.
On the connectivity side, the Transformer 3 Pro features USB Type-C and Thunderbolt 3 ports, a USB 3.0 port and an HDMI connection. The Harmon Kardon speakers round up the premium package.
Transformer 3
The Transformer 3 shares the same display as the Transformer 3 Pro as well as the connectivity suite, sans the Thunderbolt 3 and HDMI ports.
Internally, it's a different story. The Transformer 3 has a 7th-gen Intel Core i5 CPU, up to 8GB of RAM (4GB is standard) and a 256GB of SATA3 m.2 SSD (512GB max).
It's also thinner than the Pro and measures 6.9mm. The tablet weighs 695 grams and packs a 38.5Whr battery.
Transformer 3 Mini
Finally, the Transformer 3 Mini goes for an Atom X5 chip, which is less powerful, but churns out more battery life. This is also a result of the smaller 10.1-inch display (unspecified resolution at the time of writing).
The body is 530 grams without the keyboard. Snap it on and the Mini will weigh 790 grams. Like its bigger brothers, the keyboard is LED backlit and there's a fingerprint sensor at the back.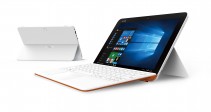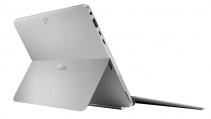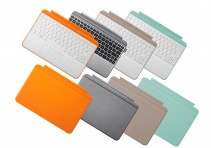 ASUS Transformer 3 Mini • Different keyboard and cover options
Sadly, some of the specs are missing for the Mini right now, but we'll update as soon as they become available.
Pricing for the ASUS Transformer 3 Pro starts at $999 while the Transformer 3 goes for $799. No word on availability just or the pricing of the Transformer 3 Mini yet.
D
I think it goes something like: "If Apple did it with the macbook, we will do it with our pc's"
A
Is there ANY reason to leave only ONE usb-c slot, which is also used for power?
D
I am seriously going to pick this over the SP4 any day. Just waiting to see how the battery does. 7th gen Intel processors, included keyboard, USB type c and fast charging are definitely a plus.