Samsung's Dutch portal announced today that the pricing for three of its latest entry-level droid iterations, the Samsung Galaxy Ace 4, Galaxy Core II, and Galaxy Young 2. All three devices will become available in Q3 of this year.
The Galaxy Ace 4, announced on Monday, will continue the legacy of cheap, quality droids put forth by the company's Ace lineup, with a 4.0-inch WVGA display, 1GHz dual-core processor, and a 1,500mAh battery. It will be available for €219.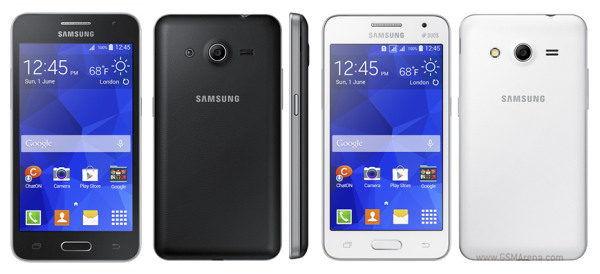 The Galaxy Core II sports a 4.5-inch WVGA display with quad-core 1.2GHz processor, 2,000mAh battery and will sport Samsung's leather-esque rear panel the company introduced with its Galaxy S4 flagship. Strangely enough the Galaxy Core II will retail for €179, even though its specs sheet is better than the Galaxy Ace 4's. There is also a dual-SIM variant of the Core II, which will likely be sold at a slightly higher price.
The Galaxy Young 2 is set to be the cheapest member of the trio at just €99, but it only sports a 1GHz single-core processor, 3.5-inch HVGA screen, and a 1,300mAh battery.
All three devices will be powered by Android 4.4 KitKat with Samsung's TouchWiz overlay.
Samsung also announced another entry-level device alongside the Young 2 - the Galaxy Star 2. Although pricing has not been disclosed, the Star 2 is almost identical to the Young 2, except without 3G connectivity and a downgraded 2MP camera.
Expect Samsung's budget droid lineup to become available this quarter.
?
Unfortunately, the third generation of L-series is a disappointment, perhaps the L70 is the only worthwhile option here but even then there are a few areas which are worse than the second-generation L7II. The L40 has a smaller diagonal than its prede...
t
Samsung Estonia announced in Facebook, that the Core II, Young 2 and S5 mini will arrive in august. https://www.facebook.com/samsungee
R
Well friend... if you look it up, 4.4.x is made to run smoothly even on 512Mb Ram devices, or higher. 2.x was never optimized for 512Mb.