While other flagships of the year max out at about 4GB of RAM, the recently announced OnePlus 3 surpasses this feat with a whopping 6GB of RAM. While 6GB of RAM may not be a requirement for a smartphone to run well, OnePlus decided to go with 6GB anyway.
The tweak should only be performed by users who know what they are doing, editing the build.prop file to be exact. If you wish for your OnePlus 3 to take better advantage of its RAM management, you can edit the build.prop value for "reading ro.sys.fw.bg_apps_limit=20" to 36 or 42 each showing similar gains in performance.

Early tests of the OnePlus 3's RAM management and overall performance showed signs of definite opportunity for better taking advantage of all 6GB of RAM. These same tests showed that the OnePlus 3 was being a bit too aggressive with RAM management, killing off apps too prematurely.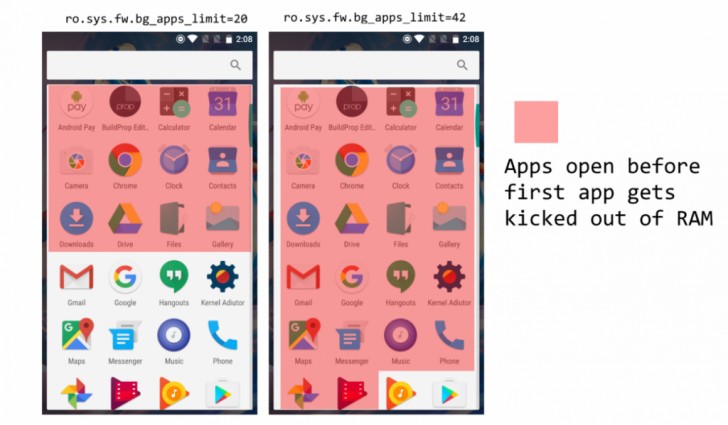 It is said that performing this tweak lets the OnePlus 3 handle just under twice as many apps loaded into the memory. When it was brought up to him on Twitter, Carl Pei, co-founder of OnePlus, defended the strategy, saying that it benefits the battery life and is intended for the user's best experience.
.@LucaDuci we have a different strategy for RAM management that benefits battery. We think this is the best user experience.

— Carl Pei (@getpeid) June 17, 2016
In addition to this, Carl Pei says that anyone who disagrees with the way it was programmed is free to modify as they wish. The OnePlus 3 does have an unlockable bootloader, so developers are free to modify and build ROMs as they please.
D
almost every mediacore popular phone will have unofficial cm .
m
6gb but programmed so that users can't use it, and provide extra juice from the battery that is not provided. Whaaat? Instead that could have been 4000mAh battery and 4gb RAM. I wouldn't matter and a thicker phone, as long as it has curved ...
?
Remove following line from the build.prop, with your own risk! Improve RAM management, but may drain battery faster: ro.sys.fw.bg_apps_limit=20