The term "public interest" is hard to define, especially when a public official has gone on record (i.e. actually tweeted) statements that violate Twitter's rules and clearly condone acts of violence.
If you haven't figured out by now, the new policy change is aimed largely at US President Trump, whose every (often inaccurate and reckless) Tweet are endlessly analyzed and reported in the news around the world.
Starting today, Twitter will enable a new policy on the accounts of government officials that fit the following criteria:
Be or represent a government official, be running for public office, or be considered for a government position
Have more than 100,000 followers
Be verified
The point of this new policy is to enable a new notice on certain Tweets from these accounts. The notice will hide tweets from public view unless the user voluntarily decides to see it behind a disclaimer. The disclaimer reads as follows.
The Twitter Rules about abusive behavior apply to this Tweet. However, Twitter has determined that it may be in the public's interest for the Tweet to remain available.
Several factors will play into when this notice will be placed on certain tweets. For instance, if the tweet has public interest but also mentions an act of violence such as starting a war, a notice will be placed on the Tweet to deprioritize it from spreading and preserve it to hold the government official accountable.
Serving the public conversation includes providing the ability for anyone to talk about what matters to them; this can be especially important when engaging with government officials and political figures. By nature of their positions these leaders have outsized influence and sometimes say things that could be considered controversial or invite debate and discussion. A critical function of our service is providing a place where people can openly and publicly respond to their leaders and hold them accountable.
If a notice is placed on a Tweet, that Tweet will be deprioritized and won't appear in Safe Search, Top Tweets of a timeline, Live events pages, Recommended Tweet push notifications, and the Notifications/ Explore tabs.
This also makes it so that Twitter can require the accounts with the criteria above to remove Tweets that violate Twitter's rules but also offer zero public interest.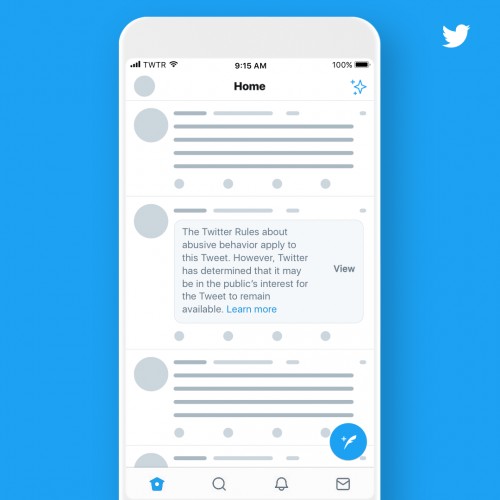 Twitter's new notice
Trump often directly attacks other public figures on Twitter using words that can sometimes borderline a physical threat. President Trump has previously tweeted dangerous statements such as touting that his "nuclear button" is "much bigger" than North Korea's (prospecting a possible act of war), or more recently when it tweeted about the Iran airstrike that almost was.
The new policy will make sure these Tweets aren't algorithmically elevated, "to strike the right balance between enabling free expression, fostering accountability, and reducing the potential harm caused by these Tweets," as explained by Twitter.
s
Aimed at Trump. They don't like him spewing off with truth.
?
Lel is what you mean you social conservatism, you just saw that in action, literal snowflakes who what to turn America in 1950, not gonna happen LEL
I certainly don't watch that crap. What makes you think I have anything to do with the US or US TV. In fact FYI, I don't watch TV, I have a family to care for!