Thanks to a comprehensive redesign, Twitter's app for Android now finally looks like an Android app. The social network has announced that a new update for its app is now in the process of rolling out on Android through the Google Play Store. When this version will be on your device, you'll get a new and much more fluid design, filled with elements from Google's Material philosophy - such as smooth animations all-round and that floating action button in the bottom right area of the app.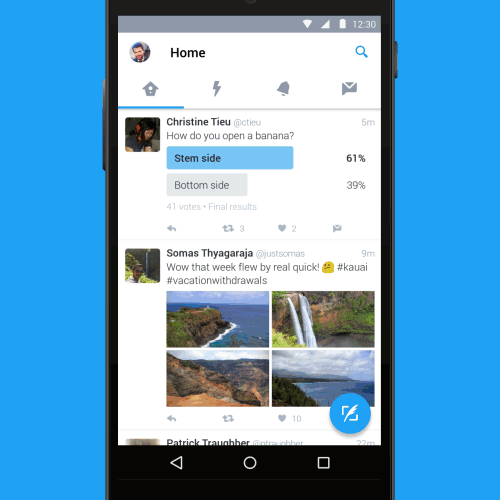 You can also swipe between sections now, so you can quickly move between your Home timeline, Notifications, and Direct Messages. A navigation menu slides out from the left side, just like it does for virtually every other Android app out there. This lets you access your profile, Highlights, your lists, the Connect tab, and the app's settings.
Twitter says this "new experience" is rolling out to every single user out there, regardless of location, so you too are bound to get it soon.
D
Nice, now I can ditch my third party app and just get the official instead.
D
This is not the UI that my phone received.
B
Basically copying the design of Twitter for Windows 10 that I've been using for ages.