All of our questions about the Samsung Galaxy S5 will be answered come February 24th in Barcelona, but that hasn't stopped more rumors and speculations about the device from circulating the media. In fact, a newest piece of data from AnTuTu suggests that there will be two different Galaxy S5 devices with significantly disparate technical specifications: the SM-G900H and SM-G900R4.
This falls in line with predictions that Samsung may be going the iPhone route with the Samsung Galaxy S5; making a lower end version of their popular smartphone as Apple did with the 5s and 5c models.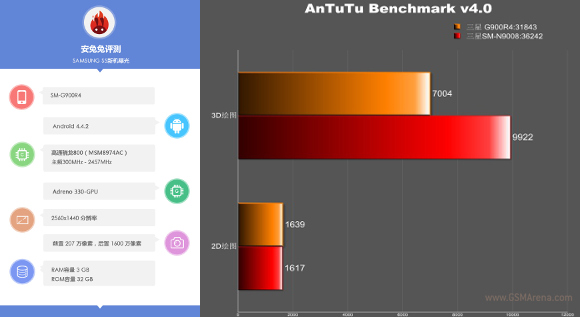 Let's take a look at the specs of the bench-marked devices. The SM-G900R4 is packing a 2.5GHz quad-core Snapdragon 800 CPU, 3GBRAM, Andreno 330 GPU, 32GB internal storage, 16MP primary camera, 2.1MP front-facing unit, a QHD display, and will have Kit Kit 4.4.2 out of the box.
With these tech specs, how did this variant of the S5 score in the benchmarks? It nabbed 31,483 points, which is lower than the Note 3. It might seem odd that despite the S5 having similar specs to the Note 3, it also has a higher resolution screen to power, which puts a slightly heavier burden on the GPU of the device.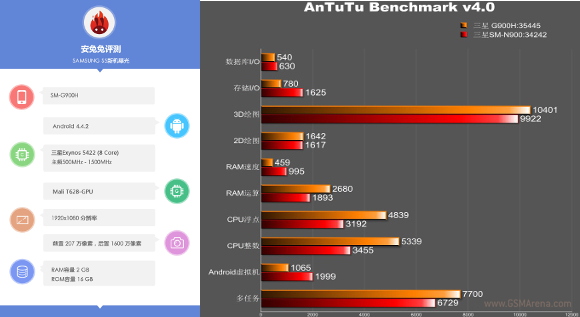 The SM-G900H version comes with much different specs: a 1.5GHz Octa-Core Samsung Exynos 522 CPU, 2GB RAM, ARM Mali-T628 GPU, 16GB internal storage, and an HD Display. The camera and Android versions are identical to the G900R4.
The latter version ended up scoring high on the benchmark test: 35,445, edging out both the Note 3 and its brother variant.
Which version are you more excited for?
p
Look I don't care what you all think. I've owned a Samsung Galaxy S3 and a Samsung Galaxy S4 and both have not lagged, fixed, glitched so for me I doubt the Samsung Galaxy S5 will be that much worse.
s
I speak the throught and u call it jealousy
?
How should I know why you act like you do? All I can tell you is how you are acting. And there is no denying that.
ADVERTISEMENTS