A couple of yet unheard of Samsung smartphones have been spotted getting results over at GFXBench.
They are the SM-G5308W and the SM-G8508S. The former is a lower-midrange offering that sports Qualcomm's first ever 64-bit mobile chipset (the Snapdragon 410), while the latter is a possible answer to the Sony Xperia Z1 Compact - or even its upcoming successor.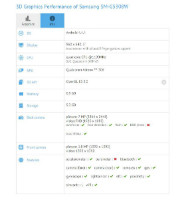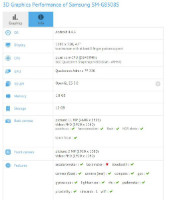 New Samsung smartphones benchmarked
The Samsung SM-G8508S has a 4.7-inch 720p touchscreen, a 12 or 13 MP rear camera, a 2 MP front camera, and it's powered by a chipset that's being reported to be a Qualcomm Snapdragon 800. However, its quad-core CPU is said to be clocked at 2.45 GHz, which can only happen if we're talking about a Snapdragon 801. So that may very well be at the helm here.
The phone has 2GB of RAM, as well as 16GB of built-in storage, and it runs Android 4.4.4 KitKat. Bluetooth, Wi-Fi, GPS, and NFC are all in too, as you might expect.
Since the Galaxy S5 Mini has already been introduced, perhaps this might launch bearing the moniker Galaxy S5 Neo.
The SM-G5308W comes with a 5-inch qHD (540x960) touchscreen, making for an appalling pixel density. The Adreno 306 GPU gives away the fact that the SoC used here is the Qualcomm Snapdragon 410, and in this case it comes with a quad-core CPU clocked at 1.2 GHz.
This handset also runs Android 4.4.4 KitKat, but it has to make do with just 1GB of RAM and 8GB of internal storage. It has an 8MP rear camera and a 2MP front snapper. And once again, all the usual connectivity options are present.
Do note that GFXBench listings always tend to report certain specs as being a tad lower than they actually are - so that 7MP shooter in the G5308W is certainly an 8MP unit in reality. To get to the truth you simply need to round up to the nearest logical value.
G
Oh great, samsung finally finally finally made the first 720P handset that under 5inch screen after GS3 series.. so please don't spam another 5inch WVGA again, eh..
M
well if u would add and increase voltage u would probably get ur phone overclock without harming a device, well undervolt overclock harms a device so, overclock monsters u should know that :D
D
Samsung never stops to surprise us, right?