Uber drivers get free access to Pandora's ad-free service for six months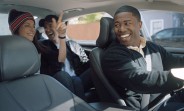 Uber has announced that it has partnered with Pandora to give its drivers free access to the latter's ad-free service. "With the help of several drivers, we designed a new feature with Pandora in the Uber Partner app so you can enjoy seamless, personalized music throughout your day," the ride-sharing company said in a blog post.
To use the feature, first connect your phone to your carís Bluetooth or AUX and set the stereo as needed. Then open the Uber Partner app and tap the "Play Music" button on the map. Once that's done, log in or create a free Pandora account, following which you can pick your station and enjoy.
The feature is available in select markets, including the US, Australia and New Zealand. And the offer is only valid for six months, meaning it ends December 28, 2016.
D
i think is the other way around... the driver can set the music .... either way, i like the news about partnership with uber, seems like a growing company and really good one
H
So does this mean you can subject your Uber driver to your music choices? I wonder how long it would take someone to kick you out after a Britney / n'Sync / Backstreet Boys marathon...
?
well its in the blog so not really intended as news, just related to tech etc