Samsung has started seeding the Android 4.4 KitKat update for the Galaxy S4 and the Galaxy Note 3 throughout the UK. The update is now available for all unlocked S4 and Note 3 handset, while those bound to a specific carrier will be getting the new firmware very soon.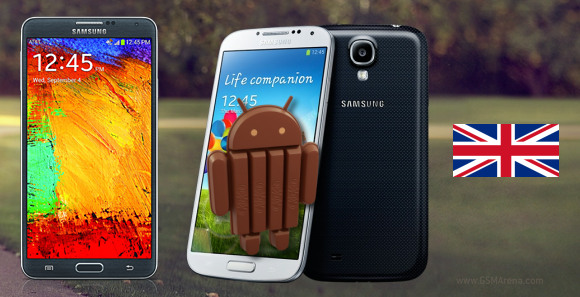 The new Android 4.4 firmware will bring you all KitKat improvements and enhancements (Project Svelte), better lockscreen with support for full-screen music album art and a dedicated camera shortcut, some minor UI updates (monochrome status bar icons) and improved stability.
The official rollout of the KitKat updates for the latest Galaxies kicked off in January for the Note 3 and in February for the Galaxy S4. If your country or carrier didn't get the update just yet, it should be brought on the KitKat bandwagon very soon, probably by the end of March.
Thanks to everyone, who sent this in!
D
I have S4 from UAE. I recently traveled to India and had an upgrade of my phone. Unfortunately, after that, I am unable to pull down the notification bar and unable to close application using the key. I am struggling with this since 3 weeks. Can anyo...
M
I have a S4 from UAE and recently visited India. I had a upgrade of the software and post that I am unable to pull down the notification bar. Can anyone help? Model - i9505 Version - 4.4.2 Baseband - i9505XXUGNE5 This issue persists since ...
K
GT-I9505 Black Edition CSC PHN no KitKat update till now anyone any idea..... OTA and Kies says its upto date. Thanks.