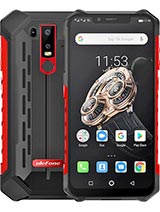 J
Problem with compass - If there is a piece of metal within 100m the compass does not work. Photos are not sharp enough. Have issues with Bluetooth but thought it was just me until reading the other reviews. Screen does lock now and the but a strong phone for the price I paid.
O
Display is not bad - great form factor (almost 2:1), battery capacity is good. Really rugged. Problems with Bluetooth, that I believe are inherited from Android 9. My 6e died not reaching even 2 years old.
M
Ok phone but the screen does lock up often.
My biggest problem with it is the Bluetooth.
The blue tooth drops mid song and will not connect to Garmin most of the time.
Both Ulefone 6e and 7e have this problem.
Blackview also gas this problem.
Is it China cheap phone problem?
It happens on mutiple Garmins and multiple blue tooth speakers and headphones
l
DrHusband, 31 Oct 2020I've had this phone for the best part of year and love the hardware but there is a seriou... morei do have those problems
R
I have had this phone for 18 months. The phone is fine as a rugged phone but I don't think is a rugged( more on this later). When u 1st got it,the phone over heated more than once esp when charging. The waterproofing is good. The memory is a bit small at 64 gb and just FYI u can't do the sim/as card hack the space is just too small. But after 18 months of use, my opinion is that its just ok. Today it slid from my hilux seat onto the floor and boom the whole screen shattered, considering this is less than 2 feet I won't rate this phone as a rugged phone!! Phone worked well for the 18 months but was laggy at times, I only play clash of clans on it and it works well for that, will probably be switching to a xiaomi note 8 pro into a rugged case and see how that goes!
B
I have been using the Armor 6 for over one year now and I must admit: I never had a better phone. Rugged, reliable, wireless charging, NFC, good screen, always on. Super.

Of course this phone does not have a super bright screen or extreme high resolution or refreshrate (who needs that?). It seems to be heavy, but it has the EXACT same weight as a Nokia 7+ in a flip case cover. Camera's OK, performance OK, sufficient for a day-by-day (every day) use.
D
I've had this phone for the best part of year and love the hardware but there is a serious issue with screen freezing that has not been resolved. A lot of users have similar issues across different Ulefones. This issues needs to be resolved
?
this phone is not worth your money. i bought it 7 months ago and when i dropped it today it completly shattered. the phone doesnt work anymore for me. so please, dont waste your money by buying this phone.
J
Just bought a Ulefone Armor 6E and it's a real heavyweight in more ways than one. A a bit more than half a pound, It's heavier than most rugged phones but the features are well worth it for outdoor use. The compass works fine if you take the trouble to calibrate it properly. The cameras are also excellent giving sharp, high-quality photos and video. Haven't used the fingerprint sensor yet but the other sensors work fine. The fact that it has bang up-to-date LTE connectivity is also a plus. Overall, an excellent purchase and highly recommended, especially to the outdoor types.
J
Otherwise a decent phone, but compass won't calibrate and shows always incorrect. Based on the Google search a common problem of this model. Waste of money as I bought this for outdoor use and compass is useless
E
The battery is a scam, it only has 4000mAh, the fingerprint reader has half the success rate, the compass is funny, never shows correctly even if you calibrate all day. GPS is functional, but still problematic compared to Snapdragon. Ulefone is scented carrion.
J
This is my third smartphone, and about my 10th rugged cell phone. It replaces a Kyocera Duraforce Pro and earlier than that, a Samsung Galaxy Rugby Pro. All 10 of these rugged phones were excellent quality and still work today (although one has a bad microphone and another has a bad speaker).

All 3 smartphones still work like new, but the Armor 6E seems to be the best built of all 10 rugged phones that I have owned. It is faster than my laptop computer, and the screen is beautiful. As far as cons, the phone is a little large/heavy and the battery is NOT removable. (I think the battery is sealed to prevent water and dust ingression though). Also, the sound is only mono from the single speaker on the back of the phone.

If you want a TOUGH, fast, reliable phone then get an Armor 6 or 6E! I was able to root mine with Magisk, although the phone didn't have much bloatware installed from the factory. (Bloatware and not being able to root are the 2 main reasons I retired the Kyocera Duraforce Pro I used before the excellent ulefone Armor 6E I use today.)
Total of 12 user reviews and opinions for Ulefone Armor 6E.
ADVERTISEMENTS