Display
The Ulefone Armor 9 has the same display as the Armor 7, at least on paper. It's a 6.3-inch IPS LCD with 1,080 x 2,340 pixels and a droplet-shaped notch. It is protected by a shatter- and scratch-resistant glass, and you can enhance it further with an additional screen protector.
The screen bezels are thick, but for a rugged phone, they are fine.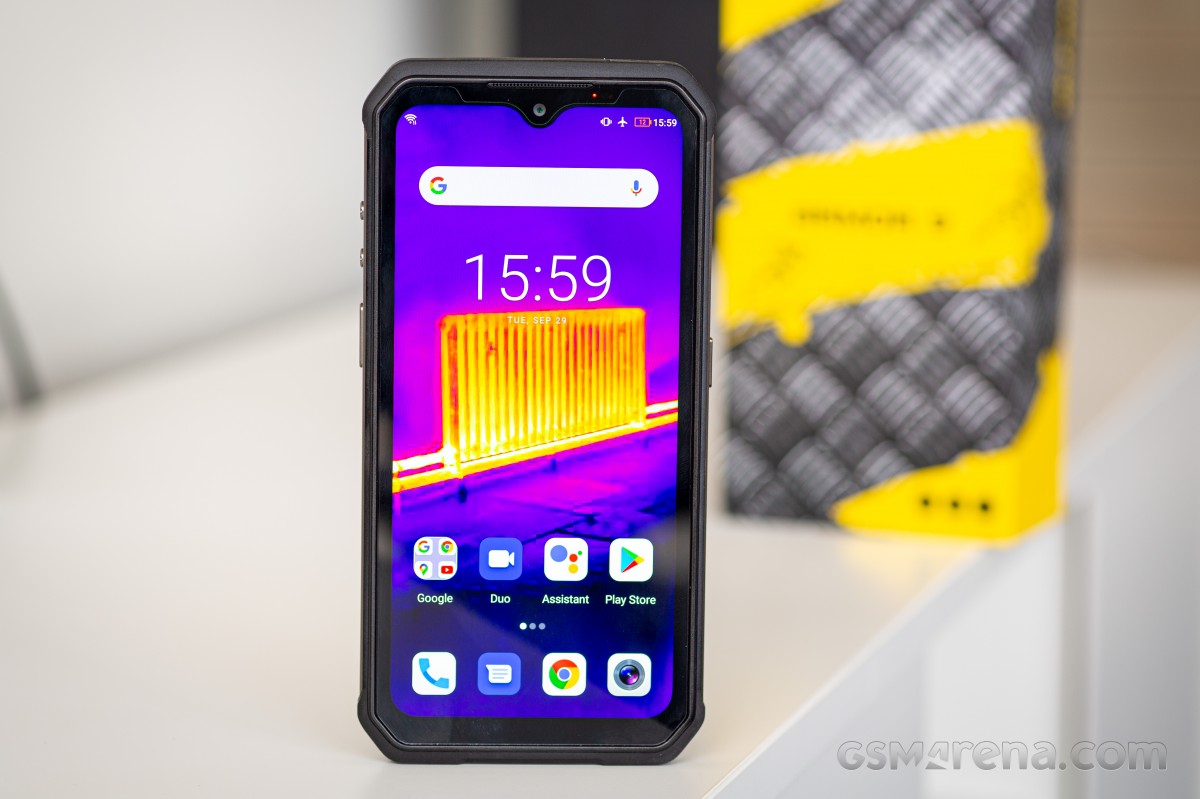 There are no special treatments such as HDR10, though DRM apps say the Armor 9 does come with HDR10 support. The YouTube app is the only one that agrees. The phone has the lowest Widevine L3 DRM level support, meaning you will have access to SD streaming only in apps such as Netflix.
As we said, the screen is of the same size and resolution as the Armor 7's, but it turns out the Armor 9 has a better display. It provides deep enough black levels and can be pretty bright - we measured 550 nits at the far right of the brightness scrubber. With such good numbers, the Armor 9 display has an excellent contrast ratio of 1541:1.
The minimum brightness is uninspiring though - at the far-left side of the scrubber, we registered 21 nits.
Display test
100% brightness
Black,cd/m2
White,cd/m2
Contrast ratio
Ulefone Armor 9
0.357
550
1541:1
Ulefone Armor 7
0.279
406
1455:1
Xiaomi Redmi Note 9S
0.303
421
1389:1
Xiaomi Redmi Note 9S (Max Auto)
0.42
575
1369:1
Xiaomi Redmi Note 9
0.298
370
1242:1
Xiaomi Redmi Note 9 (Max Auto)
0
466
∞
Realme 6
0.343
451
1315:1
Realme 6i
0.328
528
1610:1
Samsung Galaxy A51
0
413
∞
Samsung Galaxy A51 (Max Auto)
0
636
∞
Huawei P40 Lite
0.425
461
1085:1
Huawei P40 Lite (Max Auto)
0.501
515
1028:1
Xiaomi Poco X3 NFC
0.354
460
1299:1
Xiaomi Poco X3 NFC (Max Auto)
0.515
631
1225:1
Battery life
The Ulefone Armor 9 packs an impressive battery withing its thick body - it's a 6,600 mAh unit and sounds beyond promising.
We've completed our battery test, and indeed, the Armor 9 aced everything - from calls, through the screen-on test, and even standby. It clocked a 148h endurance rating - among the best we've encountered to date.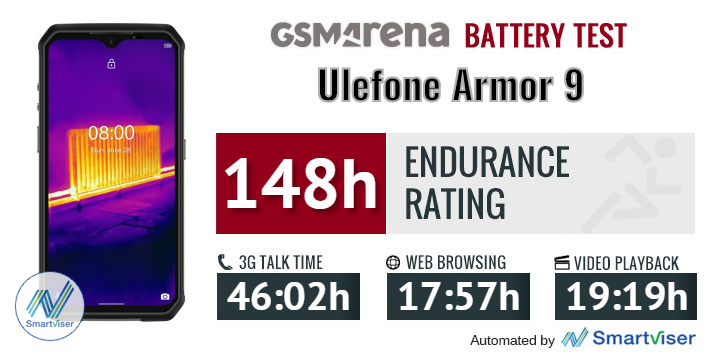 Our battery tests were automated thanks to SmartViser, using its viSerDevice app. The endurance rating above denotes how long a single battery charge will last you if you use the Ulefone Armor 9 for an hour each of telephony, web browsing, and video playback daily. We've established this usage pattern so that our battery results are comparable across devices in the most common day-to-day tasks. The battery testing procedure is described in detail in case you're interested in the nitty-gritty. You can check out our complete battery test table, where you can see how all of the smartphones we've tested will compare under your own typical use.
Charging speed
The Ulefone Armor 9 supports 18W fast wired charging and ships with such a charger. Given its gigantic battery, you should prepare yourself for longer than usual charging times.
Indeed, the said 18W adapter refills 35% of the depleted battery in 30 mins and 70% in 90 mins.
30min charging test (from 0%)
Realme 6
70%
Huawei P40 Lite
70%
Realme 6 Pro
68%
Xiaomi Redmi Note 9 Pro
63%
OnePlus Nord
60%
Xiaomi Redmi Note 8 Pro
39%
Xiaomi Redmi Note 9S
37%
Ulefone Armor 9
35%
Samsung Galaxy A51
35%
Realme 6i
33%
Xiaomi Redmi Note 9
31%
Ulefone Armor 7
27%
A full charge takes nearly 150 mins.
Time to full charge (from 0%)
Realme 6
0:51h
Realme 6 Pro
0:57h
Huawei P40 Lite
1:04h
OnePlus Nord
1:05h
Xiaomi Redmi Note 9 Pro
1:11h
Xiaomi Redmi Note 9S
1:45h
Samsung Galaxy A51
2:14h
Ulefone Armor 9
2:30h
Xiaomi Redmi Note 9
2:33h
Ulefone Armor 7
2:40h
Speaker test
So, the Ulefone Armor 9 has a single rear-firing loudspeaker, and it is plenty loud if you are facing it. Unfortunately, that is not how our loudness procedure is done. We are testing all phones in the same manner - the screen is always facing our equipment. This is how you usually play with your phone and watch videos.
The Armor 9, while reasonably loud over at the back, scored a Below Average mark in our standardized test. The sound quality is good - there is some bass, although not the best we've heard from a phone, and the mid-tones are well presented even if the high notes aren't.
Use the Playback controls to listen to the phone sample recordings (best use headphones). We measure the average loudness of the speakers in LUFS. A lower absolute value means a louder sound. A look at the frequency response chart will tell you how far off the ideal "0db" flat line is the reproduction of the bass, treble, and mid frequencies. You can add more phones to compare how they differ. The scores and ratings are not comparable with our older loudspeaker test. Learn more about how we test here.
Audio output quality
We've recently discontinued our audio output quality test.
The reason for that is that most phones that arrived for testing were already excellent in this regard, and whatever difference there was, it was marginal and probably indistinguishable to anything but our lab equipment.