Unknown HTC device appears in GeekBench with MediaTek CPU and 6GB RAM
Back in December, HTC announced that it was going to change up its smartphone strategy for 2019. Part of that strategy is extending the life-cycle of the HTC U12+ and U12 Life. It also vowed to focus on flagship and midrange smartphones for this year.
A new listing appeared on GeekBench for an unknown HTC device running a MediaTek Helio P35 paired with 6GB RAM. The device has a model number HTC 2Q741 and runs Android 9 Pie. We wonder if this could be an upcoming mid-range smartphone from HTC.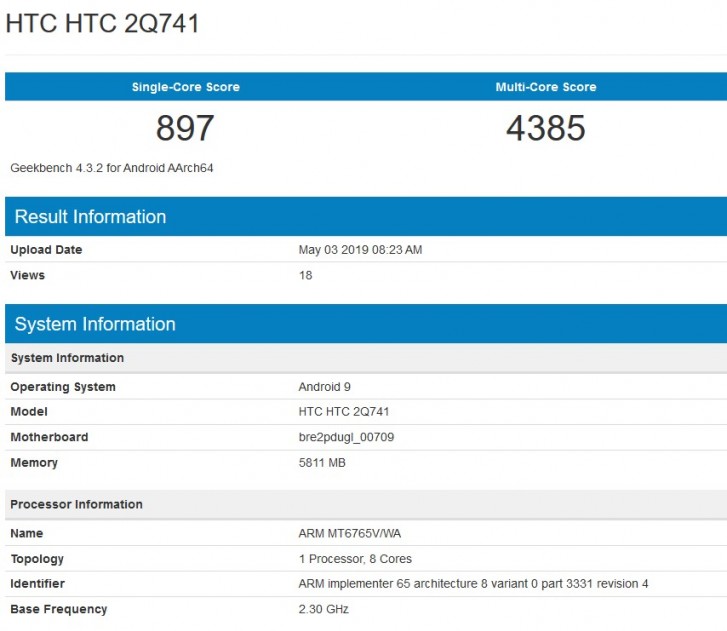 It could perhaps even be a MediaTek variant of the same smartphone that was spotted on Geekbench last month with a Snapdragon 710 CPU and 6GB of RAM. A MediaTek variant could be targeted to specific markets. That Snapdragon device appeared with a similar model number of 2Q7A100.
No other specs have been revealed about this mystery HTC midranger. In any case, we'll be keeping a close eye on HTC leaks as they come around. Now that we've seen the benchmarks, we should be somewhat close to seeing the real deal.
N
Men oh men!!!! where do i begin. I have had a lot to say about the shortcomings of HTC thru the years. They kept digging their own demise even though fans and non-fans were trying to point out what needed adjustments. At this stage a mediocre mid-...
A
HTC just give us Android Pie already on HTC u11 onwards. It will be better off that you sell the HTC u11 at a discounted (or equal) price to replace this nonsense (since I'm sure u have lots of units lying around) and focus all your resources to buil...
S
Not that long ago, HTC used to dine at the top table....do what you need to do to get relevant or get gone...! I would love to see you back where you belong but it's got to be earned......!!
ADVERTISEMENTS