A tipster sent us a photo of a Sony Ericsson phone we haven't seen before. It looks like a Sony Ericsson Kurara, it quacks like a Kurara, but has a QWERTY keyboard. Yep, this just might be a new entry into Sony Ericsson's U series.
We don't know how much this unknown phone and the Sony Ericsson Kurara have in common, besides the obvious similarities in looks. From the screen it's clear enough that it runs Symbian S60 5th edition.
Update: SEMCBlog has dug up some more information and the same tipstr as before sent us a second photo. The phone is codenamed Sony Ericsson U8i Kanna and will reportedly feature a 8MP camera with 720p video recording (the HD label on the back supports that). We'd like some more confirmation on the megapixel count though, as we've heard other rumors of it being a 5MP camera with 720p video, like the HTC Bravo. The Kanna screen is 3.2" with nHD resolution as was expected. The Sony Ericsson Kanna will also feature Wi-Fi, a 3.5mm audio jack and microUSB port. It should be announced officially on 14 February at the MWC 2010.
The touch-enabled Sony Ericsson phone with QWERTY keyboard we expected to hear from this month was the Sony Ericsson XPERIA X2, which got delayed till January this year and should be getting an official announcement soon.
So, what exactly is Sony Ericsson doing here - will the yet unnamed Kurara look-alike (now known as Kanna) share its 8MP camera and its 720p video recording? The XPERIA X2 does have an 8MP camera, but it only captures WVGA video at 30fps. Then again the Kanna will most likely have nHD screen resolution instead of the WVGA resolution of the X2 (360x640 vs. 480x800, both on a 3.2" screen).
The Symbian OS and the CPU are another major differences between the Kanna and the X2 (725Mhz vs. 528MHz Qualcomm MSM 7200).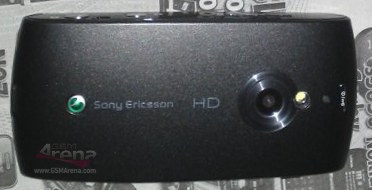 Meet the Sony Ericsson U8i Kanna
The N97 pair - the Nokia N97 and Nokia N97 mini - are the only competitors when it comes to touch-enabled Symbian device with a QWERTY keyboard. But with Android-powered phones like the excellent Motorola MILESTONE in the picture, the N97 duo is probably the least of the QWERTY Kurara's worries.
Thanks to Phono Teka for tipping us off and if anyone has more info about this or other phones, we'll be glad to here it. You can tip us on our Facebook page, our blog or at our email info@gsmarena.com
?
Another i8910 killer?? nah, NOTHING beats Samsung i8910 HD (at least this year)!!
s
prefer unit (kanna or kurrara) with qwerty keybord, hd, 8,1 mp, possible features tv-out, secondary camera, dvdb-h/dvb-t broadcast receiver and good price
C
right ok, well ive had a look at both these photos and well in the bottom pic where is the line that splits the keyboard from the front of the phone????? i dont see one. and this might be why people are getting confused about the pixel count?! ...
ADVERTISEMENTS