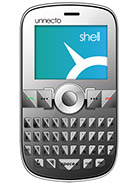 N
I Like Vry Much this type of Handset. Its Color very good. and Model looking very new.........
c
There is NO MANUAL on the Unnecto site, so your link to 'manual' goes only to the site, & therefore, has no manual! Plus, there's no info in the manual (I have one that came w/ the phone) re: how to set the phone to go online. I called the company that provides service, spoke to FOUR different 'service technicians'. All gave me different answers, none of the answers were correct. I've got a completely useless data package for this phone & no way to access the internet.
Total of 2 user reviews and opinions for Unnecto Shell.