With the availability of the first BlackBerry 10 devices quickly approaching, some additional details about the first two handsets have emerged. Courtesy of a leaked internal slide from RIM, we now know the alleged resolution and screen technology implemented in the first two smartphones, which will boot RIM's upcoming OS.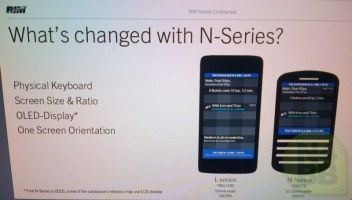 The BlackBerry L-series will be the first handset to break cover. The smartphone will offer touchscreen-only experience - right in line with previous rumors on the subject. The first L-Series smartphone will offer an OLED screen with the impressive resolution of 1280x768 pixels (think BlackBerry 10 developer alpha unit here). The density of the aforementioned pixels is bound to be even more impressive at 356ppi. The screen of the first L-series smartphone is expected to be 55mm wide.
The BlackBerry N-series on the other hand will be available with a RIM purists pleasing, hardware QWERTY keyboard at some point in Q1, 2013. The first member of the BlackBerry N-series will also sport an OLED display. In order to make space for the hardware keyboard , the unit's resolution has been trimmed to 720x720 pixels. The pixel density however is almost as impressive as in the L-series device at 330ppi, while the unit's width is in the 52-53mm range.
We are quite curious to see these two in production attire, given the fact that the fate of the company's handset's business likely depends on them. Naturally, we'll keep you posted as soon as we find out more details.
K
Looking at the beautiful design of the BlackBerry touch-only L-series, won't Apple take RIM to court for this beautiful rectangular design shape? Just wondering...
M
I pray they offer dual cameras.. In todays world a dual camera is an absolute necessity for business users. Improvement in battery life though i wont bet on that, also the youtube application improvement is important.
W
*rim strictly confidential* hahahah
ADVERTISEMENTS