Urgent: Mandatory update for select Kindles that needs to be installed before March 22
Own an Amazon Kindle from 2012 or an older model, here's something urgent that needs your attention: you are required to install a software update by March 22, failing which you won't be able to continue using Kindle services on your device.
Here's the list of devices require the latest software version: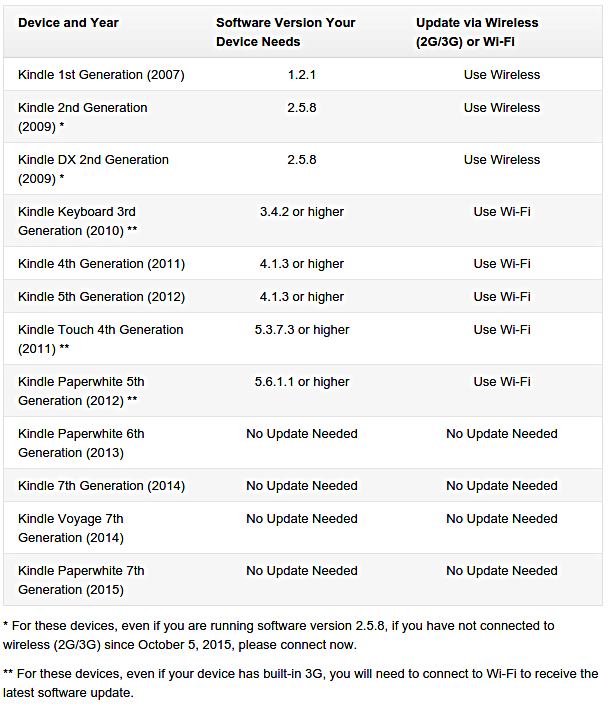 If your device is in the list and you miss the update deadline, you will receive the following message on your device: "Your Kindle is unable to connect at this time. Please make sure you are within wireless range and try again. If the problem persists, please restart your Kindle from the Menu in Settings and try again."
The only option to get out this mess would be to manually install the update, which involves downloading the correct software version on your PC, and then updating your Kindle while it's connected to the former via a USB cable.
For more information on the update, head to the Source link below.
D
the only issue I have with these e-readers, pretty much any of them with an e-ink screen is the terrible slowness. Specially since most of my materials are PDFs, and I have to jump trough pages a lot, the slow response kills the joy for me. Usually i...
D
Wish they make a 8 inch 4:3 reader . I think 6 inch is way too small ..
?
Whether they're better than an actual book is a debate for another time, but I agree on e-ink being better than LCD for reading experience, the lack of backlight and slightly more defined edges between light and dark are much easier on the eyes I fin...