Samsung has started pushing out an urgent update that is aimed at fixing a DQA (Device Quality Agent) issue that US and Canadian users of the Galaxy S8 have been facing ever since they installed the day-one software update.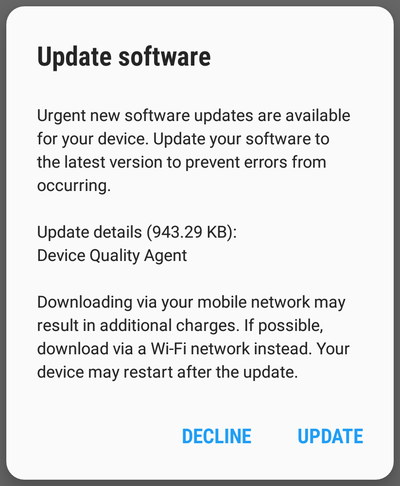 Basically, an error started popping up every 30-seconds to a minute, saying "DQA keeps stopping." The DQA, in case you aren't aware, keeps a tab on the Wi-Fi quality throughout the handset.
Although there were a couple of workarounds (force closing the DQA app or disabling Wi-Fi), it's good that Samsung has quickly issued an update to solve the problem. The update is available through the tech giant's Galaxy Apps store.
A
when I get this error or fault was connected with Wi-Fi service provider updeat has stopped me what to do'm grateful Rahhkar manager
N
What a piece of s... oap! Mobile hotspot only let's windows 10 computers visit Google and WIKIPEDIA sites. Galaxy apps store doesn't work on their end. Phone is so slippery that you can't hang on to it or even touch it without Something being activat...
D
Exactly - Apple will rectify issues within days - Samsung? They will release the devices and wait for the customer have the bad experiences, this is why Apple will always have a more popular customer base. Take the Samsung Note that caught alight whe...