As you might already know, HTC's latest flagship - the HTC 10 - comes in 32GB and 64GB storage options. However, if you are in the US, and are planning to buy the 64GB variant when it becomes available, there is some bad news: US may not get the higher memory model.
This was effectively confirmed by HTC's Senior Global Online Communications Manager Jeff Gordon while replying to a user query on Twitter.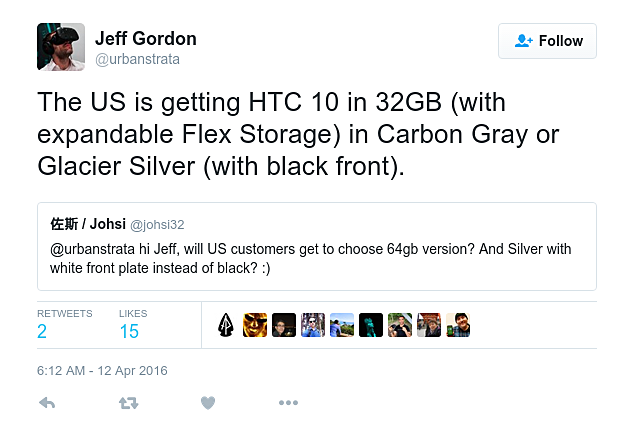 Keep in mind, however, that the HTC 10 supports expandable memory. So, storage should not be a big problem even if you go for the 32GB model. As for the device's US availability, aside from AT&T, the other three of the 'big four' carriers will be carrying it - the handset costs $700 in the country. You can slash $100 off that price with the HTC1008 and HTC1009 promo codes.
?
This is bad news. I was waiting for the 64g one to become available. Now some of the competitors look a little more attractive. so far I've found add on storage to be fairly useless, so I try to get all I need. The Nexus 6p has a 128gb version even. ...
t
I have been a loyal HTC user for years now. I think I can remember having the "Wildfire" and have owned every member of the "One" family. Each device has had it's selling points and there have been shortfalls too but none that ever swayed my loyalty....
?
Storage speed is a very important factor. SD cards are EXTREMELY slow compared to internal storage, so it would take ages to load apps. It's sorta like the difference between an SSD or a HDD