Misc brands at CES 2016
Misc brands at CES 2016: Samsung, ZTE, and Vivo
ZTE Grand X 3 hands-on
One booth we definitely made sure to visit during out time at the Las Vegas venue was ZTE's. The Chinese OEM has managed to build quite a reputation in the tech realm both at home and abroad. Despite lacking the "hip" factor as some of it up and coming rivals, like Xiaomi or Meizu, the ZTE brand is definitely popular, especially in the US, which was keenly pointed out during the keynote. And we're not just talking about networking and enterprise communication hardware, the OEM can also boast an ever expanding device market.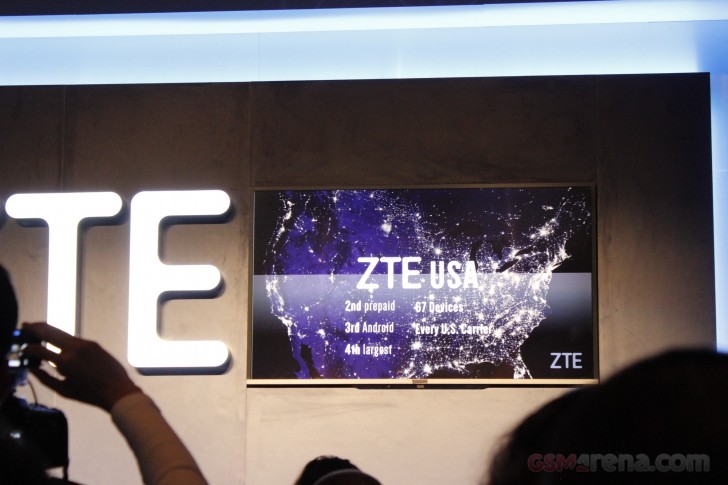 This year, during the presentation, ZTE focused more on expanding its reach and bettering customer service, thanks to a new and improved PASSPORT 2.0 international protection plan, but still managed to squeeze in a couple of device announcements. The ZTE Grand X 3 and Avid Plus made their debut on stage and while both are entry-level offers and far from showstoppers, it is a lot more than many other OEMs had to show, so the devices deserve a quick rundown if nothing else.
The Grand X 3 is a modest device by design that doesn't really feel the need for some special features or little touches to stand out. On the contrary, the 5.5-inch device simply blends in and is really quite a throwback to a rounder and more toned down handset design - the kind that was popular a few years ago.
Plastic all around with no sharp corners, edges, latches or a camera bump, the Grand X 3 reminds us of a Samsung of Motorola handset from two or three years ago. The analogy might actually be spot on, when we consider the ZTE Grand X 3's back, which slopes from all four sides towards the center, just like, the original Motorola Moto G, for instance.
Not much else can be said about the design really. The only signature aspect of the handset is the round circular capacitive home button on the front, flanked by two single dots for the other controls - in typical ZTE fashion. Other controls include a volume rocker and power button on the right-hand side, just where they belong and a 3.5mm jack on top, that's it. The unit fits snugly in the hand, thanks to the grippy plastic, agronomical slopes all around and moderate size, at least by today's standards.
As for the hardware side of things, well, don't expect much. The Grand X 3 packs a 5.5" 720p screen and a Snapdragon 210 with 1.3GHz quad-core CPU and 2GB of RAM to keep things going. This setup is hardly going to top any benchmarks, but with Android 5.1 on board, the unit actually does quite alight with no noticeable hiccups within the UI and basic operation, which will most likely be all that is expected by future consumers anyway. It also has an 8MP camera at the back and a 2MP front one, while its 16GB storage is expandable via a microSD slot.
Interestingly enough, the Grand X 3's specs sheet does have some unexpected high-points as well, like the 3,080 mAh removable battery, that considering the hardware platform, should provide above average battery life. Also, oddly enough, the handset comes with a reversible USB Type-C port - a luxury not very common at this price point.
Speaking of which, the ZTE Grand X 3 is said to cost $130 at launch and will be available shortly on Cricket Wireless in the US.
Be sure to check back this article again later today, as we'll be updating it with more pages and devices.