Misc brands at CES 2016
Misc brands at CES 2016: Samsung, ZTE, and Vivo
Samsung might have skipped on mobile announcement entirely, but the Korean giant still made sure to brings it's A-game to CES 2016 with a grand and beautiful exposition that featured a lot of varied tech, some of which announced for the first time at the venue.
What started out as a quick browse, actually ended up consuming quite some time, simply due to the sheer amount of awesome tech Samsung had laying around literally all over the place - on tables, shelves elevated in mid-air and even hung from the walls - it was geek heaven! Here is a quick overview of our take on the gadgets we managed to get our hands on, starting with the new exquisite editions of the Gear S2 Classic.
Gear S2 Classic in Rose Gold and Platinum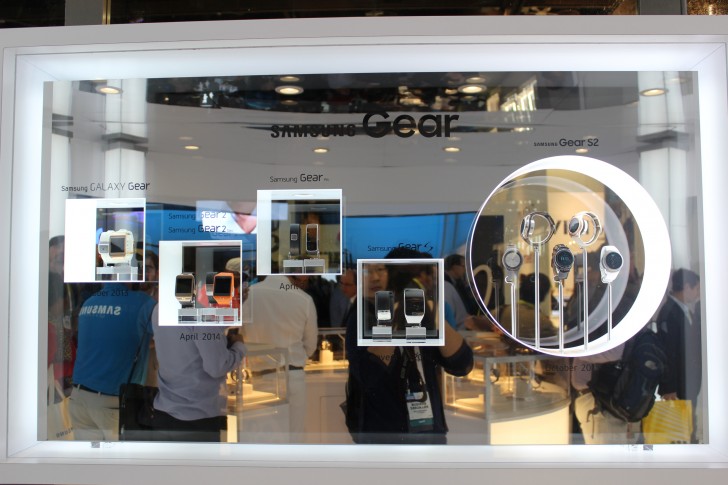 Samsung didn't bring any radical new wearable to Las Vegas. The Gear S2 Classic is a well-known product, which we've already reviewed. However, it now comes in two new flavors. One of the new variations is plated with 18K rose gold, while the other is plated with platinum.
The strap is leather, just like on the original and the rose gold one has it in white, which is arguably a better fit. Of course, you could also swap it for any after-market solution and a lot of options do exist, like the somewhat odd hole-happy one that came with one of our test units.
Besides the new dye, not much else has changed on the Gear S 2 Classic. It is still one of the select few options in the smartphone realm that pulls off a convincing impression of a classic timepiece, without looking tacky or bulky (well, the rose gold might be too much bling for some, but it is still not over the top).
The body is shaped just right, making for a snug fit on the wrist and the rotating bezel control is the thing that makes the Gear S2 unique and sets it apart from the crowd.
Another point in this respect goes out to Samsung's decision to persevere with the custom Tizen-based OS. It is almost always a big gamble to stray away from the pack, which in this case would be the ever-expanding Android Wear ecosystem and go for an alternative approach. However, Samsung has managed to craft one truly powerful and versatile OS for its round wearable, with a lot of consideration for the shape, style, unique controls, as well as care for the users and developers alike. And while Tizen is still somewhat lacking on the software front, the latter group has been exhibiting a lot of interest for the easily extensible platform, which might quickly fill the gap.
Samsung is also doing its part and working hard to win over as many fans as possible and expand developer support, as evident by the announcement that it will be offering support for iOS as well later this month.
Samsung Galaxy TabPro S
Moving on, Samsung had a lot of PC announcements to make at CES 2016. The OEM introduced an updated pair of Series 9 ultralight notebooks - 13.3 and 15 inch. Both can be specced to offer up to an Intel Core i7 processor, 8GB of RAM and 256GB of storage, all within thin and light chassis, weighing in at 840 grams and 1.29 kilograms, respectively.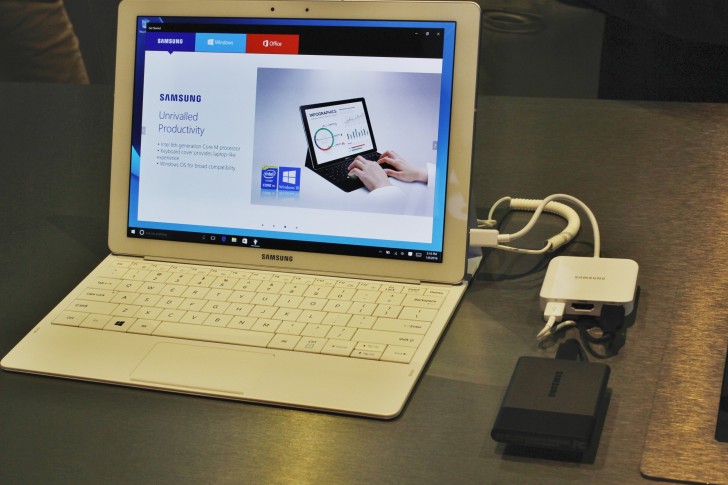 In the lower-end register, the company announced a new metal-clad Chromebook 3 model. is equipped with an Intel Celeron N3050, 16GB of storage, 2GB of 4GB of RAM as well as 802.11ac and Bluetooth 4.0. The screen is a 11.6" panel with a 1366 x 768 resolution. It runs Google's own cloud-based OS and boasts up to 11 hours of battery life.
Last, but not least, comes the Samsung Galaxy TabPro S. It is a stylish 2-in-1 or convertible device, although Samsung was very adamant in referring to it as a PC instead of anything else.
This, of course, is done for the purpose of instilling a sense of advance productivity. With a 12-inch Super AMOLED QHD display, 4GB of RAM and an Intel Core M chip inside, it should be capable enough of pushing through most computing tasks on the go.
The comfort and usability of this particular form factor are an entirely different story, and it comes down to the personal preference and whether or not you can get used to a keyboard-case, which, frankly, has almost no key travel.
On the plus side, however, the keyboard attachment will be included in the bundle, unlike the proprietary Bluetooth Pen and multi-port adapter.
The Pen works pretty well in a productivity context - selecting quickly and precisely and dragging things around, but it didn't particularly impress when we endeavored to use it for drawing.
As for the multi-port hub, well, it is kind of an essential accessory to get as the Samsung Galaxy TabPro S only offers two ports - a 3.5 mm audio jack and a single, USB Type-C one. It is used for absolutely everything in terms on peripherals, as well as charging. The port adaptor is the only way to add an HDMI port and a regular USB port.
However, there is still an upside to the lack of ports - it is all in the name of keeping the profile as thin as possible. With a thickness of 6.3mm and a weight of 693 grams, the Galaxy TabPro S is more than thin and light. Even with the case on, it looks slick from any angle.
Mind you, the shell also houses a quite large 5,200 mAh battery, as well as a duo of 5MP cameras - one on the back and the other on the front and can be configured with 128GB or 256 GB of SSD storage.
The device was showcased in classic white and black options, with no complaints whatsoever to materials and build quality. While open on a desk, it draws attention, and the display angle works quite well, but we still found it quite off and clumsy when trying to hold it in hands.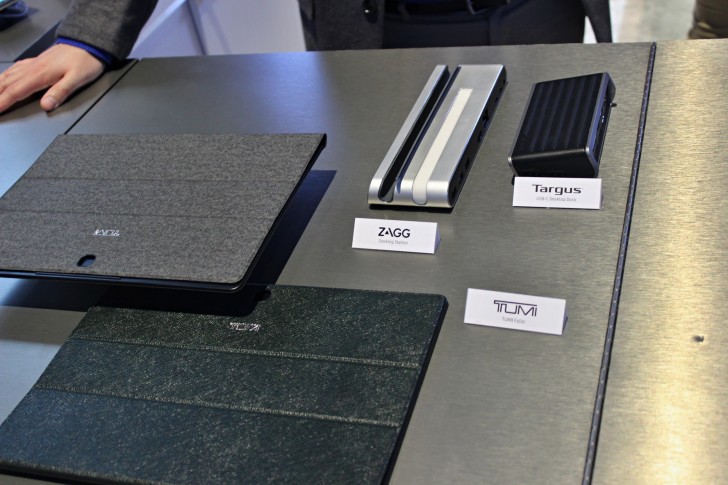 It will be available in Wi-Fi and LTE models this February, but the pricing is still not clear. Apart from the pen and small port hub, Samsung will also be offering a couple of dock solutions that you can hook up and leave at your desk.
Portable SSD T3
Samsung hit big in the memory department this year as well. At their booth, we found an impressive array of thumb drives, the PRO Plus and Evo Plus line of SD cards, as well as a range of SSDs. But, we couldn't skip over one of them in particular - the company's new Portable SSD T3 that was only recently announced.
It is essentially a refreshed version of last year's T1 model with an array of improvements, like vertical NAND (V-NAND) memory, capable of read and write speeds of up to 450 MB/s. But perhaps the biggest upgrade is the capacity - the T3 is available in 250GB, 500GB, 1TB as well as the whopping 2TB of storage.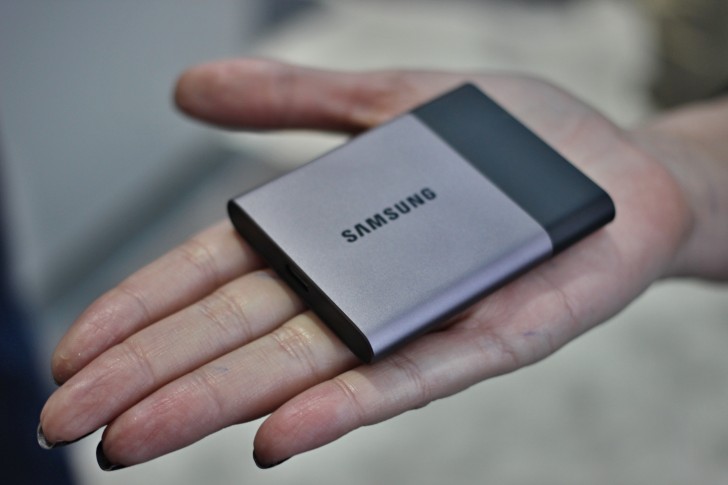 By all accounts, however, the major tradeoff to the extra storage was a bigger footprint in the new version, and we were curious to see how big the device ended up being in real life. The increase is all but unnoticeable. Samsung's portable SSD is still a marvel of technology; and it's so compact that you can practically carry it around in a shirt's pocket.
We have little doubt that for the right user, this extremely compact external SSD will be invaluable. The T3 also offers a USB Type-C connector with support for the speedy USB 3.1 standard.
Samsung also offers an Android app to monitor storage and also make use of password-based AES 256-bit hardware encryption.
The Portable Storage T3 will go on sale next month in Korea, China, the US and a few EU markets and while there are alternatives already available, like SanDisk's 2TB model, none is quite as compact or as stylish as Samsung's T3.