Modu - the transformer mobile phone
Finding our way around the Fira de Barcelona on the third day of the Mobile World Congress, we were desperate for a cheer-up after the ill-fated stopover at the Garmin stand. You may start to sniff the dramatic twist, but we doubt it you're even halfway prepared for what may as well be the pleasant surprise of this year's WMC.
Imagine a device with many faces that puts Transformers in its pocket. It gets into business mood during the day, while it keeps a low profile during evening outings. One day it's a gaming platform with a large display, the next day it becomes your music player with pocketable body and optimized music controls. And as time passes by it gets even better.
Well, meet Modu. Modu is a true modular device - with a tiny beating heart at the centre of it all. It's the smallest mobile phone in the world, but it's not about dimensions we are talking here. Yet, it's true that great things come in small packages.
This particular package consists of the Modu mobile phone and a variety of "jackets" to pick from. What you actually do is put the Modu in the jacket you need and it changes its functionality head-to-toe.
The so called jackets are shells that can alter every single aspect of the phone. From display size and available memory to battery power and software functionality.
Confused? Don't be! With Modo should you need good music listening experience, all you need to do is put the Boom Box jacket on. It provides stereo speakers, nice intuitive audio player interface and so on. If you are in for a game - just change to the game jacket and you get a powerful large screen gaming console in your hands.



Modu sample jackets: the "slim jacket" and the "boombox jacket"
There is also an idea of a Tourist jacket for example - you just buy yourself the Barcelona jacket and it will have all the information you may need when traveling to Spain's second largest city.








An existing fully-functional Modu jacket
Then there's also an idea of a Storage device jacket that adds a male USB port to the Modu so you can plug it straight in the computer, no cables needed.
What's even better is that the device is already working and it's got a few spare jackets in the closet. More are expected in the near future. The Modu can also be used without a jacket and then it's just a regular phone.
A regular phone that has quad-band GSM/GPRS network support and 1GB of storage memory that is (expandable to up to 32GB). When used on its own, the Modu also has MP3 player functionality.
To say that we are impressed would be understated but the expected retail price makes things even better. The device is initially planned to be launched through carriers at an estimated price of only EUR 200 before taxes and subsides. It is expected to ship with two jackets prebundled. Other jackets will be available as well, at about EUR 20 to 60.
But the good news doesn't end here. The Modu manufacturer is planning deals for the production of Modu mates - those would be standalone consumer gadgets that make the best out of Modu's modularity.
An already agreed option is a car audio system by Bosch/Blaupunkt that accepts the Modu as a storage device and play tracks straight from it. The company is also developing a GPS navigation mate in cooperation with Magellan.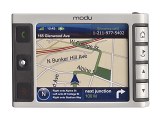 Modu sample mates: the car stereo mate and the GPS navigation mate
There is also an option of a digital picture frame that shows the images from your Modu, but also visualizes your text messages and you can use it to make and receive calls.
Another mate projects is a DECT phone - you come home, you plug your Modu in your home DECT phone and you have all your contacts right there.
A deal has also been signed with Universal Music that will probably make room for a lot of music-styled jackets themed by artist, genre, etc.
We'll keep a close eye on this exciting thingy and let you stay on top of the latest about it. Next thing on our mind is a full-blown test drive. Hope we can pull that one off and see if it's that Jacket-of-all trades. For what we've seen so far, there is enough to be looking forward to.
In the meantime, enjoy this Modu commercial video.