Hands-on with i-mate Ultimate phones
The i-mate Booth at the MWC 2008 has pretty reserved looks. There were no fresh phones announced, but some of i-mate's top-end communicators were on display.




i-mate booth at the Mobile World Congress 2008
i-mate Ultimate 9502 and 8502 come with Wi-Fi, built-in GPS receiver, Bluetooth v2.0 with A2DP support, TV/Audio output slot and QWERTY hardware keyboard. The network support is really "Ultimate", including tri-band HSDPA/HSUPA and quad-band GSM/GPRS/EDGE. I-mate Ultimate 8502 and 9502 are running on Microsoft Windows Mobile 6.0 Professional and rely on the Qualcomm MSM 7200 400 MHz processor for their calculation needs (seen on the HTC TyTN II). The devices are armed with 256 MB ROM and 128 MB RAM, as well as a microSD card slot. Regrettably both devices have a 2.5mm earphone jack instead of a 3.5mm one.
i-mate Ultimate 9502
I-mate Ultimate 9502 looks like a normal PocketPC phone - until you slide the display to reveal the full QWERTY keyboard beneath. The display itself is large 256K-color TFT touchscreen with VGA resolution. Other than that, a 3.2 MP autofocus camera and support for the same business applications as in I-mate 8502 are at your disposal. The large QWERTY keyboard and sliding VGA screen come at a cost - the device weighs a good 200g.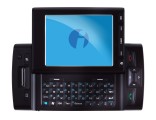 Official photos of I-mate Ultimate 9502









i-mate Ultimate 9502 at WMC Barcelona
Our first impressions of i-mate Ultimate 9502 are that it's quite a smoothly running gadget with good response. Display rotation, when you open the slider however, is quite sluggish though, and that can really get annoying if used too frequently. Otherwise, the VGA screen is the breath of fresh air about this device. The QWERTY keypad is also large enough and comfortable to use. On the other hand, we can't help the feeling that a TyTN-like design would've given even more space for the keys. Nonetheless, i-mate Ultimate 9502 did seem a nice device overall.
i-mate Ultimate 8502
I-mate Ultimate 8502 has a 256K-color TFT touchscreen display with QVGA resolution and a 2 MP camera with LED flash. The business functionality is quite extensive, with Push Email and support for Word Mobile, Excel Mobile, PowerPoint Mobile and ClearVue PDF viewer.



Official photos of I-mate Ultimate 8502





i-mate Ultimate 8502 at WMC Barcelona
The i-mate Ultimate 8502 won our appreciation with the design of its keyboard. The angular keys are really nice looking. Their usability is not as good but that can be explained with the size of the device itself. They are still good enough, unless you are going to type volumes on the device.
i-mate Ultimate 8150 and 6150
Other phones cought live in Barcelona 2008 are the well known i-mate Ultimate 8150 and i-mate Ultimate 6150. Not much to tell here, as they are pretty well-known to anyone interested in Windows Mobile devices.