Garmin-Asus Nuvifone G60 and Nuvifone M20
Last year our trip to the Garmin booth at the Fira de Barcelona was one of the greatest disappointments of the whole event. By that time we were promised that the upccoming Garmin nuvifone G60 a mobile with great GPS-navigation and a smoothly operating touch UI. Instead we got a couple of dummies, and nothing really to write home about.
Now that Garmin have joined forces with Asus things are starting to look a whole lot better. Of course a whole year has passed and the nuvifone G60 risks getting way too late even if it arrives on schedule in Q2 of this year.
At least the Linux-based interface is a real looker, easily thumbable and running very fast and smoothly. The Garmin-Asus nuvifone G60 is also equipped with a very sensitive display and is really responsive. The image quality of the widescreen display is also pretty nice with some impressive viewing angles.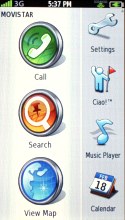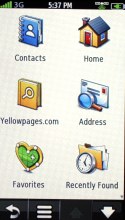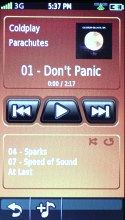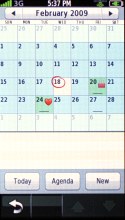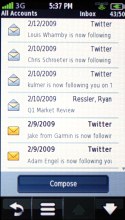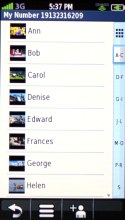 The UI is really nice to work with
And here goes a quick video demo of the UI. It should give you an idea of its layout and performance.
The new handset at the Garmin-Asus stand is the Nuvifone M20. Running on Windows Mobile 6.1 Professional this ultra-compact device is still quite far from release at this point and was only showcased behind glass.



Nuvifone M20 at the Garmin-Asus booth
Luckily we managed to get one of those dummies out of its cage for a quick photo session.
In reality, the body of the handset looks better than the official photos suggest. However, there is always a possibility for parts of the exterior to be changed before the Nuvifone M20 actually gets going.
We also noticed in the screenshots that the M20 will come with some Garmin-Asus home-brewed UI plug-in. It seems nicely thumbable but only after we acquire a more mature unit will we be able to judge its performance. Until then we'll have to do with the bunch of photos we took and hope for the best.