Alcatel One Touch Idol X hands-on
Alcatel's big ticket into the high-end is called the One Touch Idol X. It ticks all the right boxes in these performance-driven times - a sharp 5" 1080p screen with around 441 pixels per inch, quad-core processor, 13 MP snapper on the back, expandable storage, etc.
While we were getting to know the Idol X, one thing stuck out - the gorgeous display. The screen is better than the one on the Xperia Z, and is certainly on par with what HTC offers with their wonderful Super LCD 3.
Things look really sharp on it. Contrast is top notch and so are viewing angles. The black crystal coating on top of the screen makes it look really black when the phone is locked or off (much like the screen on the iPhone 5).
The phone has a glossy back option, however it isn't all that great and is a true fingerprint magnet. It doesn't feel great in the hand either. The matte finish, however, is a different story altogether.
Despite the size, it's a comfortable device to hold and operate single-handedly.
Here's a hands-on video we shot of the Idol X.
Alcatel One Touch Idol Ultra hands-on
The Alcatel One Touch Ultra is a nothc below the Idol X. It was announced back in January but this is the first time we see it in person.
It sports a 4.65" AMOLED display of 720p resolution, an 8 MP snapper and Android Jelly Bean. It's also the thinnest Alcatel (and one of the thinnest smartphones) at just 6.5 mm.
It feels very light at 115g and you'd expect more heft just by looking at it. The story with the glossy and matte panels is the same as on its more prominent sibling - it's just feels better in matte. It sticks better to your palm and fingerprints aren't such an issue.





The Alcatel One Touch Idol Ultra
The 4.65" AMOLED screen does well when it comes to contrast and depth of blacks. Unlike some AMOLED units (the Galaxy Nexus pops to mind) it's not dim at all. At maximum brightness it's more than capable of handling a sunny day outside.




The Alcatel One Touch Idol Ultra
Alcatel One Touch Scribe HD hands-on
The One Touch Scribe HD is another device announced back in January. It has a 5" IPS LCD of 720p resolution. We prefer the matte one, again, as the glossy variant got covered in smudges in an instant.
One thing to note here - the edges of the devices are slanting outwards, making it somewhat uncomfortable to hold.







The Alcatel One Touch Scribe HD
The One Touch Scribe HD is rocking Android 4.1 currently, but Alcatel assured us that it will ship with 4.2.
Alcatel One Touch Fire hands-on
Alcatel's Firefox smartphone is up next. The One Touch Fire is a simple little gadget. The screen has a HVGA (320 x 480) resolution stretched across a 3.5" diagonal. There's a lowly 1 GHz processor on board and the camera is a 3MP unit.
The device comes in orange (glossy, again) and feels quite compact. It's not thin, however, but you'd expect this in a budget offering.
Alcatel One Touch Star hands-on
Finally, we come to the mid-ranger in the lineup. The One Touch Star has a 4" WVGA display on tap, dual-core 1 GHz processor and a 5 MP camera.
We only saw the Star in white glossy plastic but have to say were impressed with the screen. It looks superior to some screens we've seen in the same segment.
All the devices we handled (well, save for one obvious exception) are running Android 4.1 Jelly Bean, which we find to be a good start. And we should say, Alcatel are doing the big manufacturers no favors - here's looking at you LG, Sony. Of course, it will all boil down to pricing and availability.
Alcatel One Touch Snap and Snap LTE live photos
The Alcatel One Touch Snap and Snap LTE arrived a little late in Barcelona and were lit by stage lighting just today. Unfortunately we weren't able to spend some quality time with them as they were only exhibited behind a glass. Still we took some live photos to show you what the duo looks like in real life.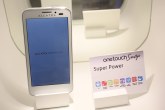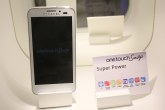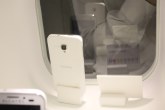 The Alcatel One Touch Snap live photos
It's a solid no-nonsense design and an all-plastic body. It's not too bad, but you'll hardly be tempted to write home about it either.