BlackBerry Leap hands-on
BlackBerry's latest smartphone aims to appeal towards the younger crowd. The company even cites a specific target group - start-up entrepreneurs. Naturally, we are all over the new BlackBerry Leap to find out if it has the necessary traits to inspire anyone.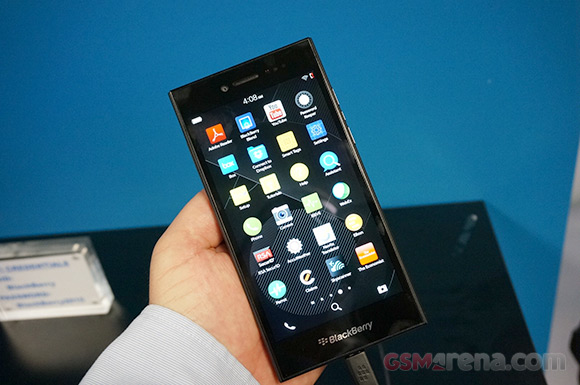 Grabbing the Leap in hand immediately gives you a sense of its sturdiness. The phone is very well built, which we've come to expect from the company. The left and right sides are curved and this makes the phone sit very comfortable in hand. What's not that great is its thickness of 9.5mm.
Part of this thickness is due to the 2,800mAh battery. It's not removable, but according to BlackBerry, you'll have a tough time getting it flat throughout the day, as it's certain it can last 25 hours of heavy-duty workload.
The back cover, as we mentioned, isn't removable and on first sight, it's not that good looking. Compared to the latest hot-looking Android smartphones like the Samsung Galaxy S6, HTC One M8 and even the mid-range offerings from Alcatel, the BlackBerry Leap is, frankly, old school looking. Despite this, it's very nice to the touch as the soft plastic offers great grip and isn't a fingerprint magnet.
The BlackBerry Leap is built around 5" 720p display, which is good enough at 294ppi. It's decently bright and colors are fairly okay. What's not that great is the nearly ancient chipset that powers the phone. It's a Snapdragon S4 Plus with a 1.5GHz dual-core Krait CPU and 2GB of RAM.
We realize that BlackBerry may have a lot of these chips leftover from the Z10, but we can't justify using 2013 hardware in a 2015 smartphone. Especially not in a one that's aimed towards young entrepreneurs.
Ranting aside, BlackBerry OS 10.3.1 runs buttery smooth on the Leap. It offers a great array of features including a comfortable and well-laid out keyboard, great email and messaging experience as well as neat gesture based navigation around the UI.
Finally, here are some camera samples from the phone's 8MP snapper. Lightning conditions aren't optimal, so we'll keep our judgement for when we get a retail unit.



BlackBerry Leap camera samples
Overall, the BlackBerry Leap is quite an average offering. It costs $275 off-contract and will be out in April. Sadly, we can foresee it having a tough time to compete against the very aggressively priced Android mid-range smartphones that are due to come out in the Spring.