ZTE Grand S3 hands-on
ZTE Grand S3 went official just yesterday as the company's latest flagship, which introduces Eyeprint ID biometric security service. ZTE is indeed the first manufacturer to implement this kind of technology into a mobile phone.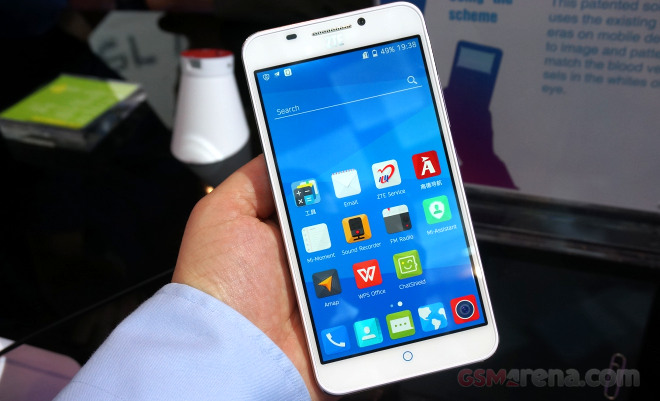 The ZTE Grand S3 packs a 5.5" 1080p display and runs on the Snapdragon 801 chip with quad-core Krait 400 CPU at 2.5GHz, Adreno 330 GPU and 3GB of RAM. It also offers 16GB expandable storage, 16MP rear camera with dual-LED flash and an 8MP front selfie snapper. There is also LTE connectivity, Wi-Fi ac, Dolby Sound and a 3,100 mAh battery.
We went to see the smartphone at ZTE's booth and we found it to be quite pretty with slightly curved glass on its front.
The Grand S3 shell is all-plastic but we like the silver accents around the frame. It isn't as good looking as other flagships, but it's still a very nice looking device.
There is nothing out of the ordinary around the sides and the back of the ZTE Grand S3.
The most important feature of the phone is the front 8MP snapper, which is used for the eye-based biometric security via the Eyeprint ID. The innovative tech is developed by EyeVerify and can be used for authorizing mobile payments, unlocking the screen or accessing secure content.
Scanning your eyes isn't as fast as the fingerprint sensor, but it is even more secure than the fingerprint recognition technology - probably because the phone needs to scan both of your eyes.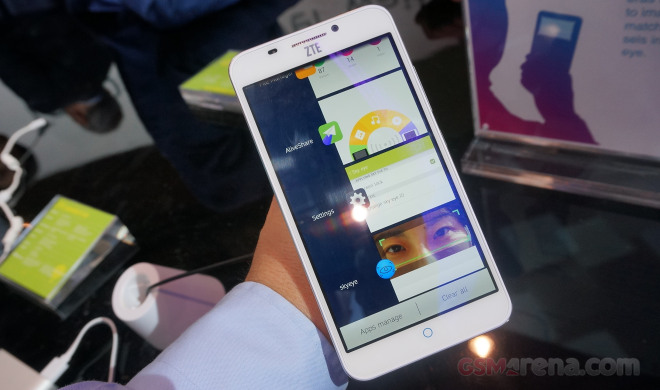 Since the scanning is done by the front 8MP camera, which has no LED flash, unlocking the screen or authorizing payments with your eyes in low-light conditions won't be possible.
The ZTE rep demoed the technology in front of us and it is indeed really cool though it works rather slow. Hopefully it improves in the future, because ZTE promises to implement the Eyeprint ID on all of its upcoming Grand smartphones.
Fujitsu is demoing a similar sounding eye-scanning tech at the MWC 2015, but they claim theirs is faster than using an on-board fingerprint reader/scanner.