HTC's upcoming flagship device - the Rezound - has leaked a couple of times before but this is the first 'official leak'.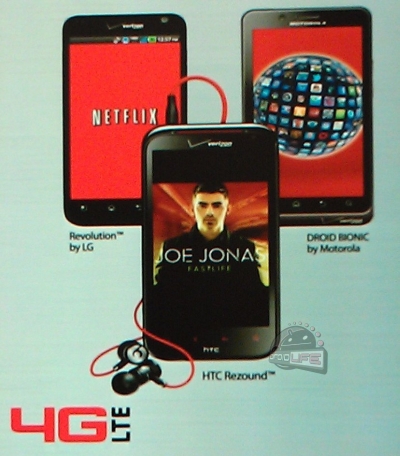 Ads just went up in Verizon stores showing off the yet to be announced HTC Rezound along with other 4G LTE devices on Verizon's network.
Also, for the first time, we're seeing the phone with a pair of Beats by Dr. Dre earphones in tow. So all the red highlights on the phone were't just because it is a Verizon branded device.
Other details about the phone remain scanty. We know it will have a 4.3-inch 1280 x 720 resolution S-LCD and it will be running on a 1.5GHz dual-core processor and Android 2.3 Gingerbread. One can also expect to find the latest Sense 3.5 on board. We'll find out more about it on HTC's event on Thursday.
?
Only thing exciting about this is the non-PenTile screen. But LG's True HD IPS screen is better....
s
If will it have the new screen protection, not the gorila glass, the lotus glass !! it will be great !! much better than the nexus galaxy
ADVERTISEMENTS