Verizon and Best Buy are offering the Moto Z for free with device payment plan
There are good deals and then there's free stuff. We've seen our fair share of the former on Verizon's Moto Z, the best being the one that charged only $4.99 per month for the phone when purchased through a 24-month installment plan, effectively making its full price $119.77. That's great, but how about not paying anything (except tax) for a Moto Z?
That's now possible thanks to Best Buy and Verizon. But there are some caveats, obviously. Here's what you need to do. Pick up a Moto Z from Best Buy, choose the Verizon device installment plan, and you're set. The carrier will apply bill credits each month that will cover the full amount of each installment.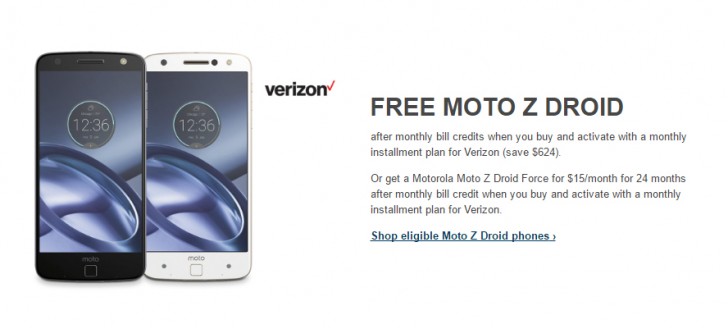 So while Best Buy's listing for the Moto Z says you need to pay $13 per month for it, Verizon will issue a $13 per month bill credit, which will leave you with a balance of $0 each and every month for two years, but therein lies the rub: to get the handset for free you will need to keep that line for the entire two years of the payment plan. Otherwise, the remaining balance on the phone becomes due.
If you like the Moto Z Force more, then you can grab that for less than usual too, but it isn't free. Instead, it will cost you $15 per month for two years, which adds up to a grand total of $360, or half off the normal price. This too works through bill credits, except in this case the monthly installment is $30 and you only get credits covering $15, so you still need to pay $15 every month for the phone.
D
Now my question. Do I have to give up my unlimited data plan to get this? I've got a 5 year old phone, it'd be nice to get an upgrade for free.
H
I have a Moto z and I love it, it's pretty much pure Android.
U
Picked up one for my daughter with two mods before christmas, great phone for her. Would be a great to pick up another one for myself except it can't be rooted and no hotspot hack work around for nougat for my unlimited data plan.